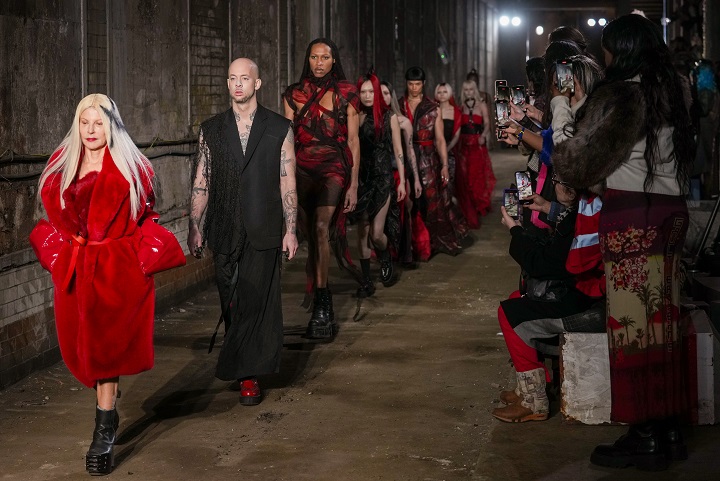 Set in the depths of a London Underground abandoned tunnel on a cold Saturday evening, Ingrid Kraftchenko's catwalk show for London Fashion Week AW 2023 felt as intriguing and revolutionary as a fashion event could be.
Known for her ecofuturist, political avantgarde designs and for redefining modern luxury, the British fashion designer closed Saturday night's official London Fashion Week Schedule with her latest collection, titled Sun Is Ash.
The catwalk show, attended by Paulatrendsets, featured models emblazoned in red and black creations -made from leather, sheer fabrics and an array of intricate textiles and crochet.
Led by a black flag bearer, they walked a ritualistic catwalk, "a tribute to the dystopian and utilitarian," as stated in the show's Press release.
According to the latter, Kraftchenko's androgynous designs for Sun is Ash drew inspiration from "the climate around her" as well as from "anger, euphoria and all that encompasses femininity."
Born in Kent, Kraftchenko graduated in Womenswear from London College of Fashion in 2017 and has gained a reputation for her radical design style which explores androgynous tailoring, political prints and discarded end of life deadstock "to revitalise and challenge modern luxury, embodying survival, security and protection".
The shoes for the Sun is Ash show were provided by Underground England, and Bellami was the show's hair sponsor.
The models' hair was done by John Vial and their makeup by Claire Urquhart.
Besides her own collections, addressed at "the anti-fashion youth", Kraftchenko is also available for freelance work and commissions.