Most of us have linked crimped hair to the visually loud and extravagant 1980s hairstyle fashion. Today, however, crimping hair is being rediscovered as a vintage romantic, more polished alternative to the voluminous lion's mane hairstyle.
Celebrity hairstylist Argyris Raftopoulos styled his models in our Dark Tale Fashion Editorial with high volume crimped hair to contrast the soft, feminine dresses by Nella Ioannou Couture. In this context, crimping hair contributed an edgy, gothic feel, aligned with the rules of the new romantic style 2016.
You can easily do this hairstyle at home with a hair crimping iron
. Also known as a hair crimper, this hairstyling tool has parallel heated plates designed with a flat S-shaped repeating groove.
The invention of the modern crimping iron by Geri Cusenza in 1972 helped crimped hair reach their peak in mainstream popularity during the mid-'80s. However, crimping's popularity has a tendency to return in ten-year cycles; crimped hair was shown on a model during a Chanel runway show in 2007, making the hairstyle popular again throughout the entire 2007-2008 season.
Get ahead of the next forecasted return of the trend and start practicing your hair crimping skills today!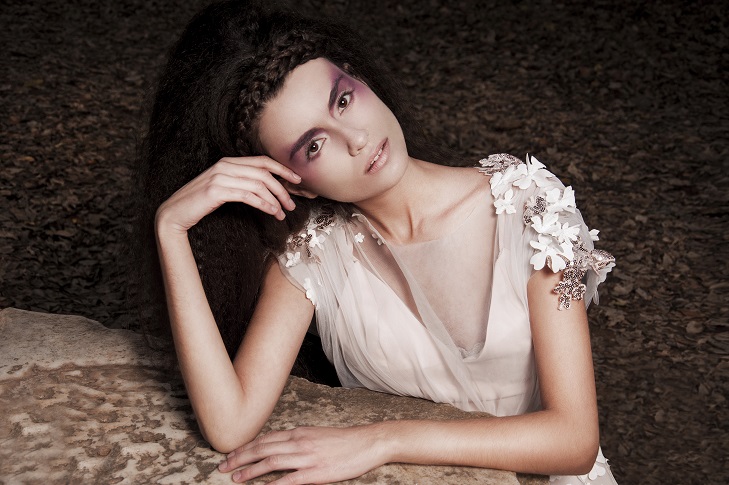 Photo Credits:
Photographer: Jurgen Pisha
Assistant Photographer: Thanasis Valchos
Creative Director / Hairstylist: Argyris Raftopoulos
Assistant Hairstylist: Grigoris Panagiotou
Makeup artist: Despoina Papaioannou
Makeup assistant: Marina Georgiou
Fashion Designer: Nella Ioannou
Models: Sophia Ioannou – Lucia Raić – Anya Rykiel
Photoshooting Assistants: Pavlos Demertzis – Vanessa Diamanti – Korina Chrysostomou – Entzi Kalca – Eric Skederi