May's outfit for the limited edition Campari Calendar 2015 starring Eva Green is inspired by Primo Carnera, the first Italian to win the heavyweight boxing title, in New York.
The boxing outfit Eva wears in this look is the only one which was entirely custom made, head-to-toe, for the calendar photo shoot. Never had a boxing fashion editorial looked so glam and sexy before!
[Click to view backstage images and video from the photo shoot]
The cocktail of the month is the Americano, and there are many legends and anecdotes about how it got its name.
According to one story, this was the first Italian cocktail to be served as an aperitif. it was in fact introduced in Milan, in Bar Camparino in Galleria del Duomo, and it should have been named 'Italiano', because it is made of all Italian ingredients, topped with soda water. The Americano was the original drink that led to the creation of several well-known variations such as the Negroni.
Another version of the cocktail's story is that it originated in the 1930's and links the name of the drink to that of boxing legend Primo Carnera, who had been dubbed 'L'Americano', after his victory in New York.
Yet another version says it was named Americano in honour of its popularity amongst American tourists during Prohibition.
The Americano is one of James Bond's favourite cocktails, and is also the first cocktail ordered in the 007 Casino Royale novel.
The Americano is part of the official cocktail list of the IBA (International Bartending Association), which means they are prepared all over the world following this original recipe.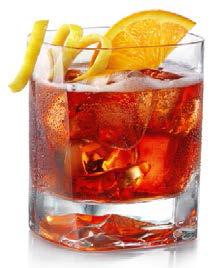 AMERICANO
cocktail recipe
– 1 part (1 oz) Campari
– 1 part (1 oz) red vermouth (Campari recommends Cinzano Rosso
or Cinzano 1757)
– Splash of soda
Pour the ingredients directly in an old-fashioned glass filled with ice-cubes, add a splash of soda water and garnish with orange slice and lemon peel.
*enjoy responsibly!
For more vintage-inspired fashion and historic cocktails see also:
February's Cocktail and Outfit