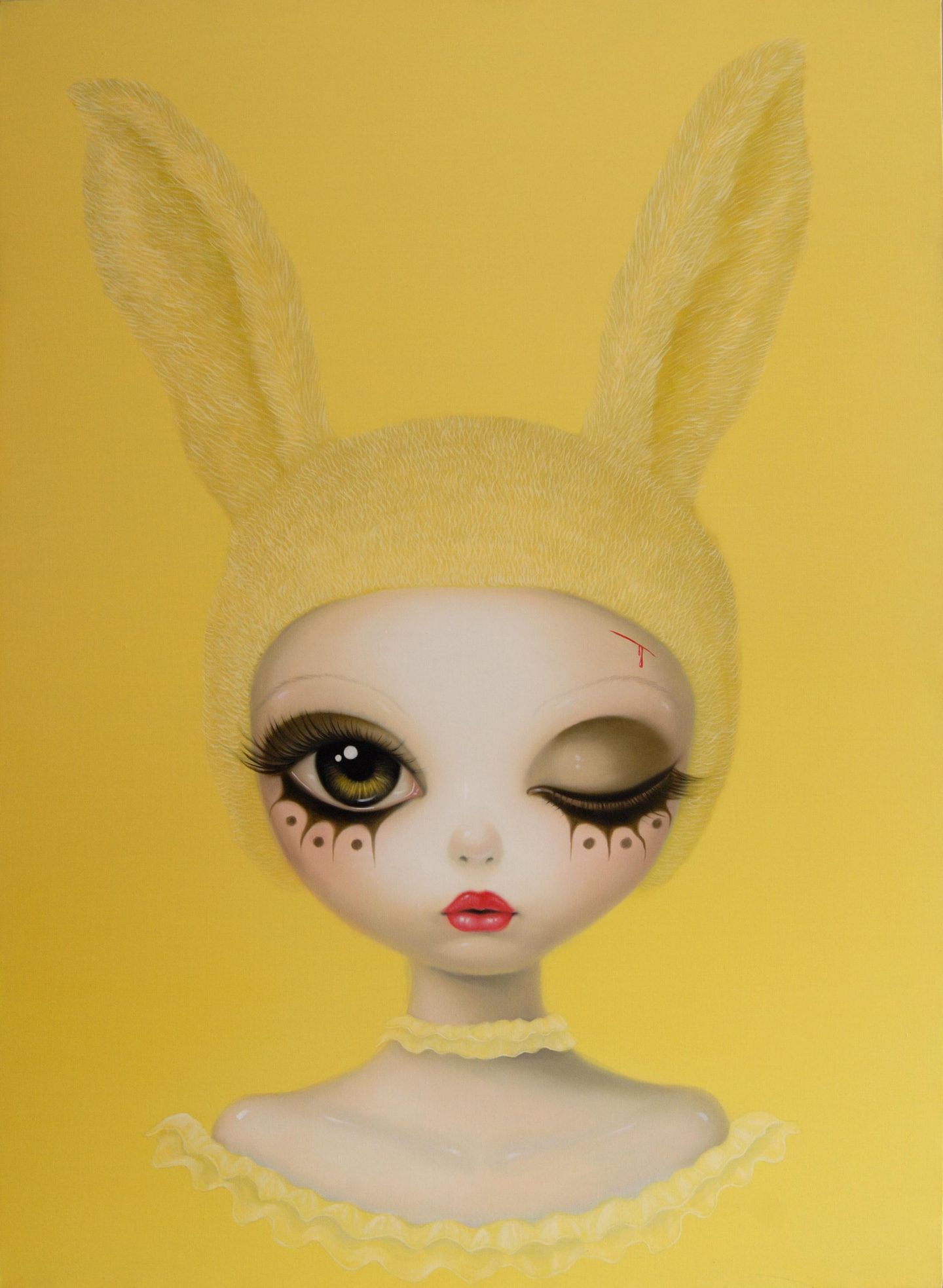 It was love at first sight when I saw Chen Hongzhu's "What Is Memory" series displayed at Sesame Gallery. The cute fluffy bunny with the big eyelashes caught my eye as I was walking down Islington High Street towards Angel station. But it was only when I stopped to take a closer look that I noticed there was something weird about the beauty in that painting. One eye was closed and the bunny was bleeding from a sharp cut.   
Art has always reflected the society creating it at a certain moment in time. Any important social change in History has been reflected on the Arts. From the bloom of artistic creation when democracy arose in ancient Greece and Rome, to the austere, strictly religious-themed paintings of the Middle Ages and then the victory of enlightment during the Renaissance, examples of this bidirectional influence between society and Art are omnipresent.  
"What Is Memory" is such a testimony of the artist to a new era arising in China. Tweenies like Chen Hongzhu are experiencing the transition of China from communism to superpower, trying to adapt themselves to the new circumstances.
"Being a young adult in China now means being exposed to choices and lifestyles that your parents never dreamt of. It means being influenced by Western culture – and by Western values. It also means that you, and all your friends, are the product of the one child policy: a generation of only children, facing a world of change and uncertainty", explains James Freeman, Director of Sesame Gallery.
Confident and rebellious, Chen Hongzhu has been painting  zoomorphic self-portraits round the motif of the "one-eyed princess" that she created. A mix of surrealism with self-examination, the "What Is Memory" series depict seemingly perfect porcelain dolls that are nevertheless damaged & fragile. The cuts and dripping blood hint at traumas faced and survived. "Her paintings suggest a tragedy in beauty, a disappointed innocence, but also a steely determination – disillusionment, yes, but also a persistence to carry on", says Freeman.
"They address the themes of how Chinese youth grapple with an open consumer society – with choice, options, expendable cash and pop culture… all the trappings that were unknown to their parents' generation. In their stark portraits of fractured innocence, it is as if the optimism of pop is corrupted by the pressure to make life choices without any guidance or values. Unlike their predecessors, these Chinese paintings are less about politics, and more about individualism – an exploration of how Western values take root in a communist context. The previous generation of Chinese artists defined their vulnerability in opposition to the state; this post-80s generation looks to the expanse of "choice" that the New World Order has delivered, and the sea of uncertainty that it has placed them in", continues James.
It seems to me though that it's not only the Chinese youth that finds itself facing such dilemmas.
Youths of Western societies are at the same crossroads of social change; lost in a multi-cultural, globalised economy that dices away their future day after day.
[Based on my article
"Challenges for a new generation",
 published in Simerini tis Kyriakis newspaper, Cyprus, 24/10/2010]