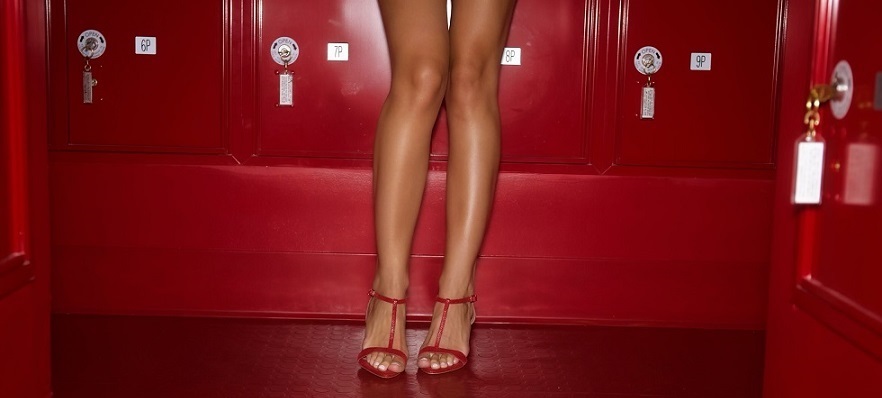 Whether in love or not really, if you are into fashion you probably cherish Valentine's Day anyway, as a first-class opportunity for a fun, themed dress-up.
Red is definitely the go-to color for 14th February, but the details of your Valentine's Day outfit should always reflect your own distinct personality – in romance as much as in any other aspect of your life.
Here are 5 types of Valentine's Day style that I put together to help you identify yours, and plan your special outfit accordingly.
So, which type is you?
[Main photo credit: Blondish shoes]
1. The Classic
The Classic Valentine's Day style type will give into the love-and-passion theme reservedly and discreetly, without appearing too carried away or loosening her self-control and authority.
She will go for darker, earthy tones of red -nothing too flashy- and will prefer to adopt the Valentine's dress-up through accessories rather than statement garments or total outfits.
These classic croc pumps in burgundy red by Blondish and matching coral beaded bracelet by 15 Degrees London would be just her cup of tea, worn with a dark-colored pantsuit or pencil skirt. Or, perhaps, a little black dress for added mystery.
*********************
2. The Romantic
Figure-hugging lines and feminine cuts are ideal for The Romantic Valentine's Day style type.
Anything too cute, such as kitten-heel pumps and heart-shaped jewelry, would complete her outfit.
The Romantic Valentine's Day style type would adore this subtly revealing date-night dress by Lipsy in deep red, and heart-shaped handbag by Radley London -and she wouldn't hesitate to show her enthusiasm.
*********************
3. The Diva
The Diva Valentine's Day style type is a master at gracefully adorning her every step, move, and outfit, with a charming dose of drama.
No surprise if she shows up at her date night dressed as a movie star on an awards stage.
This lush pleated frock by Daska and fancy headpiece by Merve Bayindir would no doubt live up to The Diva's standards.
This bold look would need to go with minimal accessories, jewelry and makeup.
*********************
4. The Lolita
Fun and playfulness is key for The Lolita Valentine's Day style type and her outfits.
She won't mind sporting flashy hues and eye-catching design; innocently standing out is the point, after all.
These cat-eye sunglasses by Tribal Eyes in bright red and multi-colored decorated high-heel mules by Jori Papa would be a perfect fit for the Lolita on Valentine's Day, hinting at a lightsome dress-up.
They would look lovely even with casualwear, such as harem pants or denim.
*********************
5. The Artista
A true creative like The Artista will naturally question everything, everyday.
That would include the style rules of Valentine's Day dress-up, even when she gives into it.
She will find her way around the conventional fashion shapes, forms, hues, and materials, discovering the most unusual ones to integrate to her Valentine's Day outfit, and in the most unexpected combinations.
Hence, The Artista Valentine's Day style type would fall for the Seeker 2.0 handbag by Native Dubai in poppy red and this pair of semi-transparent perspex sandals by Blondish.
*********************
By now, you must have figured out which is your personal Valentine's Day style type – and probably sorted out your outfit for the next 14th February!
Click here for more fabulous ways how to wear red on any day of the year and here for a step-by-step tutorial to the best eye makeup look to match any red outfit.