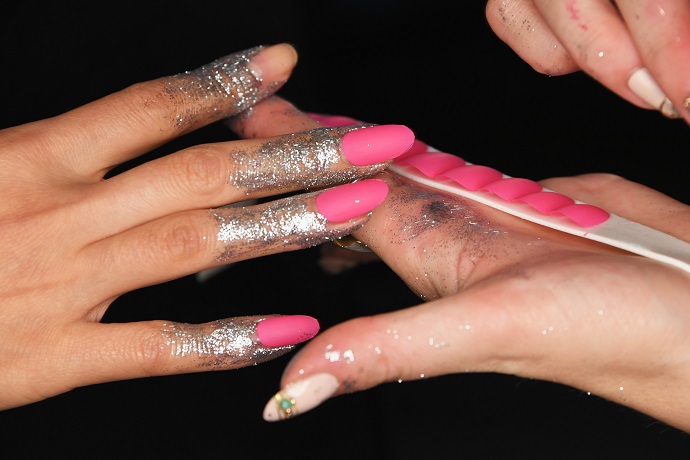 CND, the pioneers of nail artistry at Fashion Week, once again joined forces with one of fashion's most iconic free spirits, Jeremy Scott, for a Spring/Summer 2018 show that was truly out of this world.
(Photography by Jennifer Graylock/Getty Images for CND)
Marking Scott's 20-year anniversary as an independent designer, this season's looks were a literal reminder of why he is one of fashion's most brilliant stars: the collection showcased an irreverent take on intergalactic glamour, sparkling like space-age stardust on the runway.
Highlighting the playfully futuristic feel of the collection, the key custom nail style featured silver-dusted digits radiating from a burst of bright color.  All together, the look offers the illusion of a comet streaming down the runway.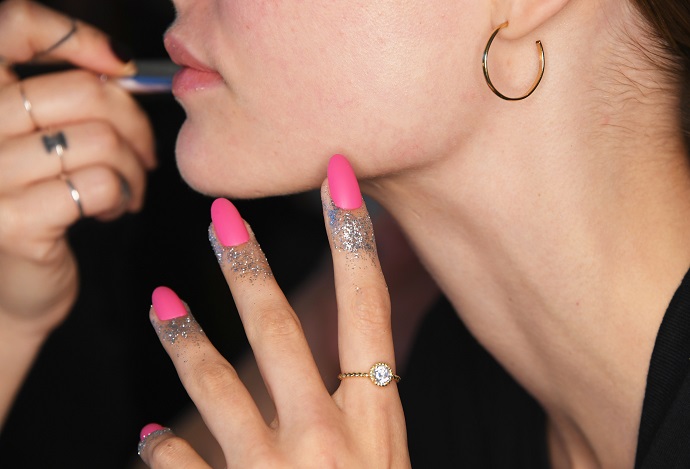 No strangers to pushing the boundaries, it's only fitting that CND and Jeremy Scott opted to blast off to the final frontier this season. CND Creative Ambassador Miss Pop was the lead designer for collection's nail looks, lighting the way backstage alongside CND Co-founder & Style Director Jan Arnold.
"With an eclectic attitude that defies convention, Jeremy Scott always opts for the road less traveled—even when it leads to another galaxy," said Arnold. "We have an incredible admiration for and partnership with Jeremy because of his creative spirit, which is so aligned with our own; and this season Jeremy took us on a brilliant space gypsy odyssey."
Top models Gigi Hadid and Elsa Hosk seemed to enjoy their silver-dusted comet nails looks backstage at the New York Fashion Week show.
HOW TO GET THE LOOK
To set off the silver-dusted comet nails, the CND team of Nail Professionals chose two bold CND SHELLAC™ shades: Hot Pop Pink and an electric orange, which stars in CND's upcoming Summer 2018 collection.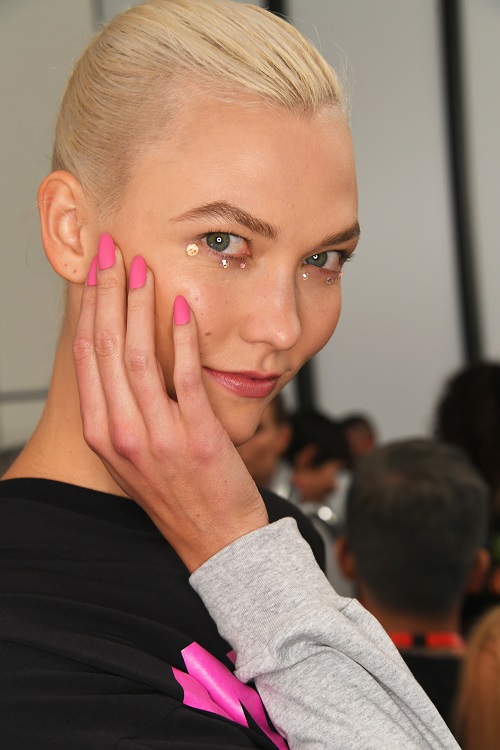 The bright tones were shown in both glitzy gloss and casual matte finishes (utilizing CND's new SHELLAC™ Matte Top Coat) on the elongated oval shapes of the nails.
"With a nail look that's a mix of matte, glossy, and sparkly, we're on an otherworldly texture journey that turns the nails into bright comets  that glimmer down each finger," said Miss Pop. "This glam take on nail art turns the whole finger into a colorful canvas to compliment the collection of outer space-style streetwear, blasting us into Jeremy Scott's dimension."