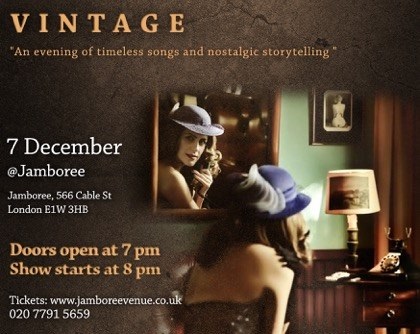 Actress/singer Elena Hadjiafxendi is introducing her vintage-inspired, on-stage persona Helena Ray for the first time through her show "Vintage" which premieres in London this Wednesday 7 December 2016, at the scenic atmosphere of the Jamboree, 566 Cable Street.
As Elena has developed an eclectic and distinctive style of performance that blends world music with literary recitation and drama, "Vintage" will offer an eclectic mix of international songs presented in an evening brimming with timeless songs and nostalgic storytelling, exploring the musical styles and popular culture of the roaring twenties and the dark interwar era, up to the late fifties.
Featuring contemporary remakes of classic songs from the 1920s and 1960s by Bert Firman, Danae Stratigopoulou, Edith Piaf, Milva, Amalia Rodrigues and Sofia Vembo -among others- the show is a homage to European tango, bolero, waltz, foxtrot and rumba with famous melodies by Kurt Weil, Carlos Cardel, and Attik, in English, Spanish, Italian, German, French and Greek.
The Thrift Shop Ensemble will accompany Elena in her melodic travel, with their music.
Let's get to know her better.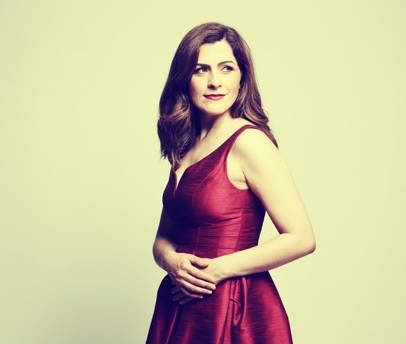 What is "Vintage"? Is it the first time you will present this show to the public?
"Vintage" is a performance with songs and stories from old times – 1920s to 1950s. We explore different approaches on famous songs in a performative way and we create characters for the songs; men, women, narrators that tell us their stories in different languages and through different music genres. Melodies and rhythms of tango, bolero, waltz, fox trot, swing, jazz create stories of desire, passion, love, pain and joy.  Helena Ray is the host of the show and she takes the audience to a sensational, nostalgic journey through time.
Like Konstantinos Kavafis wrote, "Speak not of guilt. Speak not of responsibility when the Regiment of the senses parades by with music and with banners… your duty is to give, to always give in to desires".
Since this is the first time that we will present this show to the public, I am excited about it and curious for the feedback.
Who are The Thrift Shop Ensemble and how did you come together?
The thrift shop Ensemble are me, Andreas Papapetrou, Michalis Iskas and Pavlos Carvalho.  We played all together in a concert at the Hellenic Centre last year. That was the beginning. But then I started working on my ongoing project, World Vintage Music: Notes of Beauty and Longing and I asked Michalis and Andreas to perform with me at Home House in April of 2016. I always wanted to create a powerfull team and explore more this music. So we decided to start working on that, and Pavlos joined the team. Also part of this creative team are Maria Athini and Yiannis Athimaritis. Maria wrote most of the stories you will hear during the performance. Most of them are based on the true stories of the songs and also she did the English adaptation of the lyrics in some songs.  Yiannis created the photo for our poster.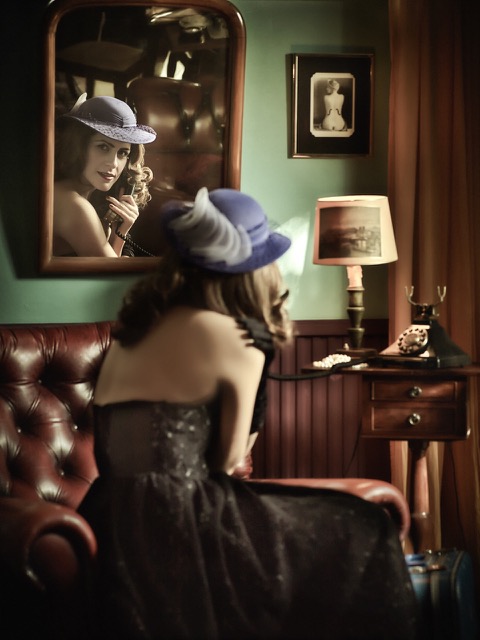 How was the Helena Ray persona born and how is she different from Elena Hadjiafxendi?
Helena Ray was born while we were putting together this performance. The truth is that I always wanted to create a persona for my concerts. I had many different ideas. When I moved to London 2 years ago, I thought that this is the time now, here in UK, to create an on-stage persona, but maybe I wasn't ready or I could not imagine this persona yet. So this year… it just happened. I believe that I need Helena Ray in my life as an alter ego and she gives me a lot of ideas. I could say that Helena is the ideal Elena Hadjiafxendi. She breathes deep and calm, she has no stress, she enjoys everything, she is self-centered and she never gives up on her desire. She is a wise, sensual, mysterious, serious and funny woman at the same time.  I could say that she is "the fairy godmother", the voice that bring us back to our existence, to our reason for living.
You have performed in a number of European countries. Was this a trigger to explore the music of diverse cultures in this show?
Yes, maybe yes. I always liked the idea of exploring other cultures. In Cyprus, where I grew up, an island witht a diversity of ethnicities, you feel that it is something very usual to communicate with people from other countries. Especially music and food are the most easy and clear ways to understand a culture. I met people for Russia, Ireland, France, Egypt, Bulgaria, Philippines, Germany, and Austria when I was a child. It was something that made me feel part of the world. In my village there is a line called the Green Line, which starts the buffer zone that lies between the Turkish-occupied part and the free part of the country. That forbidden line was part of my life, and that "in between" area was part of my life also. So in my mind as a child there was a space where we can create peace and love, a small "in-between space". And I had this feeling through the Austrian and German UN workers who used to leave with us in the village while they worked for the Peace Force. They protected the buffer zone, organizing games and parties for the children and made us feel safe when there were issues. For me these images in my mind are very strong and part of this show. To create this "in-between" space for all of us to enjoy, to breathe, to remember what joyful days we are destined for in unity.
After that, I was sure that I wanted to travel, like Helena Ray does in the performance. I wanted what Fernando Pessoa's lyrics describe; "to travel, to change countries, to be forever someone else, with a soul that has no roots". So, I moved to Greece, I worked in Italy, I performed  in Albania, France, UK in  multicultural projects  And I want to perform more in many countries, and to travel with music.
I love that moment when all the languages become one through music and the boundaries are open doors to exchange and not to steal or to criticize. There is a very famous literature text in Greek by Stratis Myrivillis; on a hill full of poppies soldiers from different countries meet, and without saying anything, they understand everything and in their guns blossom poppies.
That is the moment and the space that we need in this crazy world we are living in.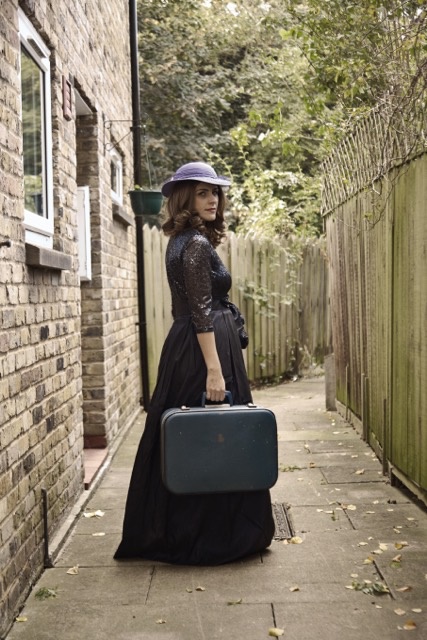 Do you plan to repeat the "Vintage" performances in the future as a standard gig?
"Vintage" has no end. We add new stories and songs and a new show appears. So we have already planned more performances. 21st February at Home House, 31st March at Green Note, May in Cyprus… and more to be announced.
What does 2017 brings for Helena Ray and for Elena Hadjiafxendi?
Nice things! Helena Ray is planning to record an album, shoot video clips and perform in more concerts in different countries. Improvisation, rehearsals, work with guest artists and collaborations.
For Elena Hadjiafxendi, 2017 will bring musical performances, a short film, a concert in Cyprus, a storytelling performance (Cyprus Rhymes of Love) at the "Paphos 17" Festival and more beautiful things which I can not imagine  yet and I hope I will be surprised by them.
If you could make a wish for the new year…
All of us to love and be loved.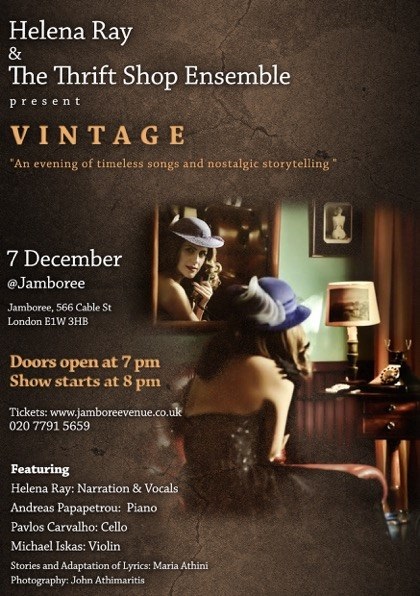 VINTAGE
"An evening of timeless songs and nostalgic storytelling"
7 Dec 2016 @ Jamboree
566 Cable St, London E1W 3HB
Featuring:
Helena Ray (aka Elena Hadjiafxendi): Narration & Vocals
Andreas Papapetrou:  Piano
Pavlos Carvalho: Cello
Michael Iskas: Violin
 Stories and Adaptation of Lyrics: Maria Athini
Photography: John Athimaritis
Doors open at 7pm, Show starts at 8 pm
Tickets: www.wegottickets.com/event/380321  
£10 at the Door, £8 advance booking
Phone bookings/info: 020 7791 5659