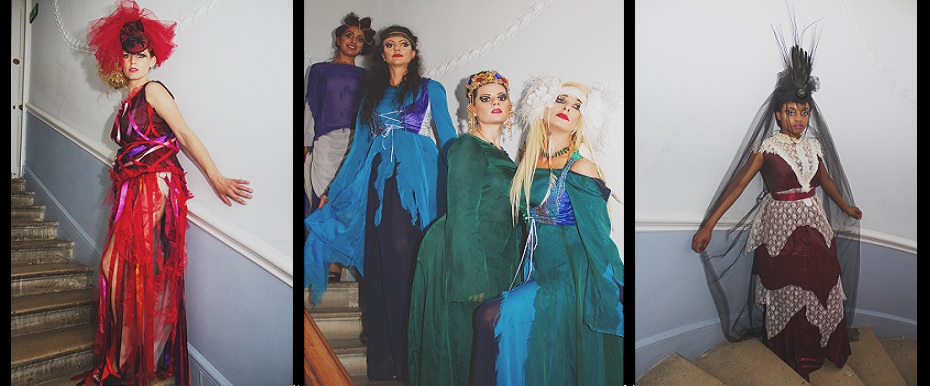 Art evokes the mystery without which the world would not exist – Rene Magritte
This summer, I had the pleasure to attend a spectacular thematic fashion night in central London, featuring unique fashion creations by Linda Blissett, complemented with jewelry and headpieces by top class accessories designers.
The Enchanted Garden Fashion Extravaganza and Masquerade Ball transformed the prestigious Home House exclusive members' club into a magical, enchanted garden of mystery and mayhem, featuring a unique mix of fashion, art and live entertainment that have been brought together to create a night to remember.
The prestigious venue, awarded Best London Private Members Club in 2015, was specially decorated as an Enchanted Garden into bloom through exotic plants provided by The Kew Gardener. Artist Kavita-Priya Mohan with her projected display of Pre-Raphaelite inspired paintings, provided the backdrop for the interactive fashion show and live entertainment.
Masks were compulsory to enter the venue and if you had not brought one with you, you could choose among some wonderful masks available to buy at the entrance; I was lucky to find one that matched my mint green dress and necklace perfectly.
Live shows included unique performances by Dimona-Annette Dougherty, singer Samantha Akasha Beck and King Bomba band. The Jewelled Moon Theatre company presented Once Upon A Time; exquisite fairy cabaret, poetry and immersive interludes laden with starspelled glamour.
Doors opened at 19.30 but the fashion showcase only started a couple of hours later. The models lined up along the revolving staircase of the impressive Georgian townhouse and walked down from the second floor to the ground floor ballroom. The splendour of 18th Century architecture and the opulence of neo-classical design added to the ambience of this very special event.
The interactive fashion show featured designer Linda Blissett's new couture collection, recently shown at London and Paris Fashion weeks. The designs were inspired by the bold colours and the flamboyance of Pre-Raphaelite art. The dresses featured an intricate architecture of modern and traditional woven fabric worked into eclectic art, able to transform the wearer and turn any event into a modern Fairy-tale.
The spectacular outfits were complemented with elaborate headpieces by Jayne-Elizabeth Millinery, L.A.-based accessories designer to the elite Marianna Harutunian -whose pieces have been worn by A-list performers such as Lady Gaga, Beyonce and Selena Gomez!- and Dark Whimiscal accessories designer Metamorph Quirky Couture.
Photographer Tim Copsey perfectly captured the feel of the event with his camera and shared some his best snaps on PaulaTrendsets, including a couple of atmospheric portraits of me. Among Tim's most impressive shots were some absolutely stunning artsy portraits in black and white.
Follow PaulaTrendsets by email and join us on our Facebook page and Twitter for an insider's look into London's fashion scene, invites to designer events and spectacular thematic parties!