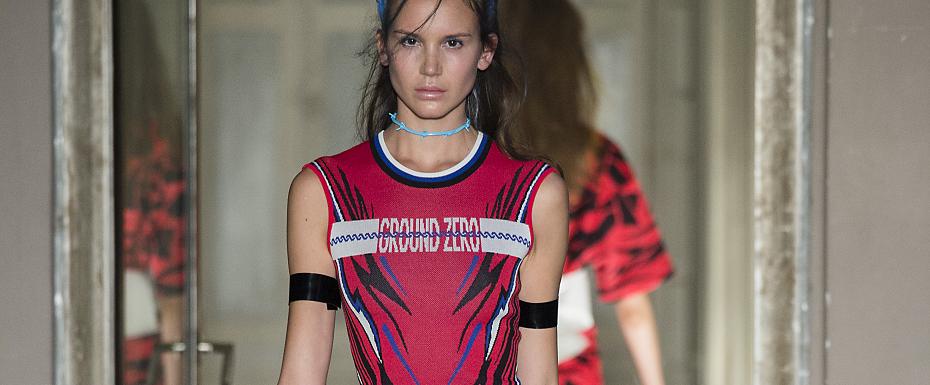 Tuesday 23rd September 2014 I had just landed in Paris and, soon as I settled my luggage, GROUND-ZERO Spring Summer 2015 was the first Paris Fashion Week show in my agenda for the season.
The catwalk show took place in an spacious industrial venue at rue du Mail, which I found very appropriate to the brand's signature modernity.
As the lights went off and the runway lit up, a strong dance beat got the audience into the bold mood of GROUND-ZERO.
Personally, I loved the confident mix of colors and the comic book / superhero – inspired motifs; wire, thorns and flash symbols mixed with what appeared like fragmented bat wings for the modern Batwoman who shakes down stereotypes and creates a legend of her own.
A flirty attitude which attracts admiration but at the same time sets its own limits of "look but don't touch".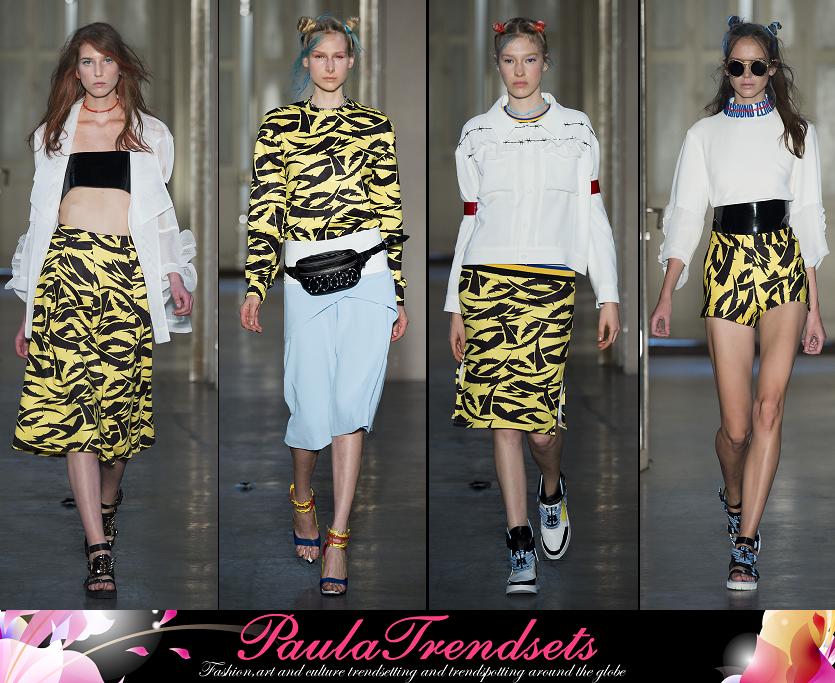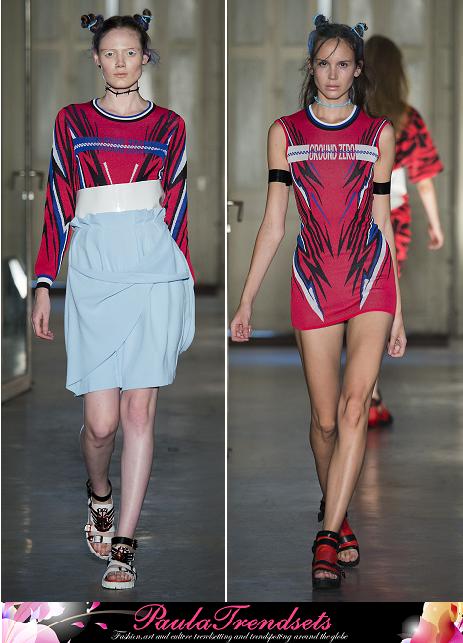 Watch the catwalk on PaulaTrendsets' LIVE TV or scroll down for more… and tell us what you think of the GROUND-ZERO Spring Summer 2015 collection.
Pic. 1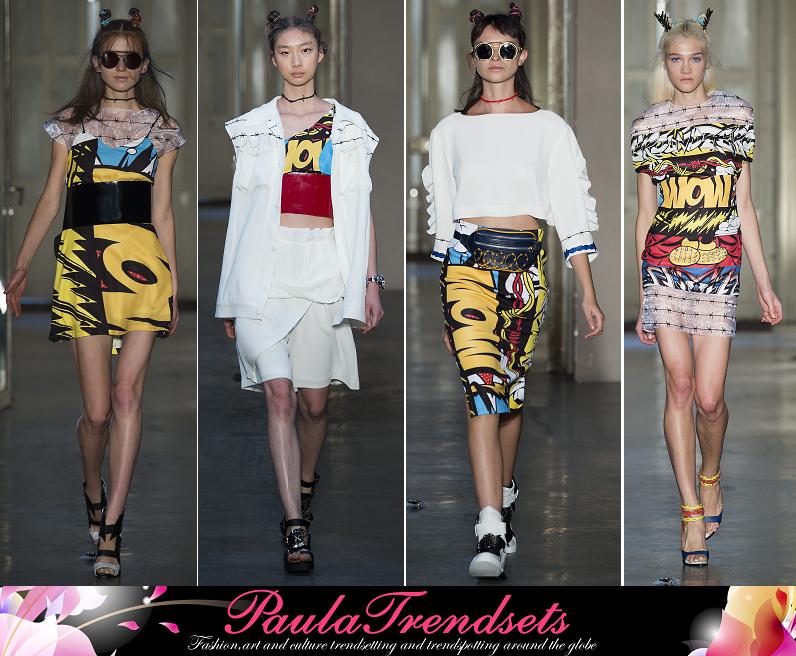 A playful mash-up tone embodies the GROUND-ZERO Spring/Summer 2015 collection with a luxuriant yet juxtaposing spin on graffiti print. The collection exudes a modern conversation between casual streetwear and ready-to-wear, where downtown edge finds its way right into the form of high-end sophistication. Soft fabrics are embraced with a touch of vibrant motifs that dominate the collection, which are carried over from a transformative lingua franca of pop culture.
Pic. 2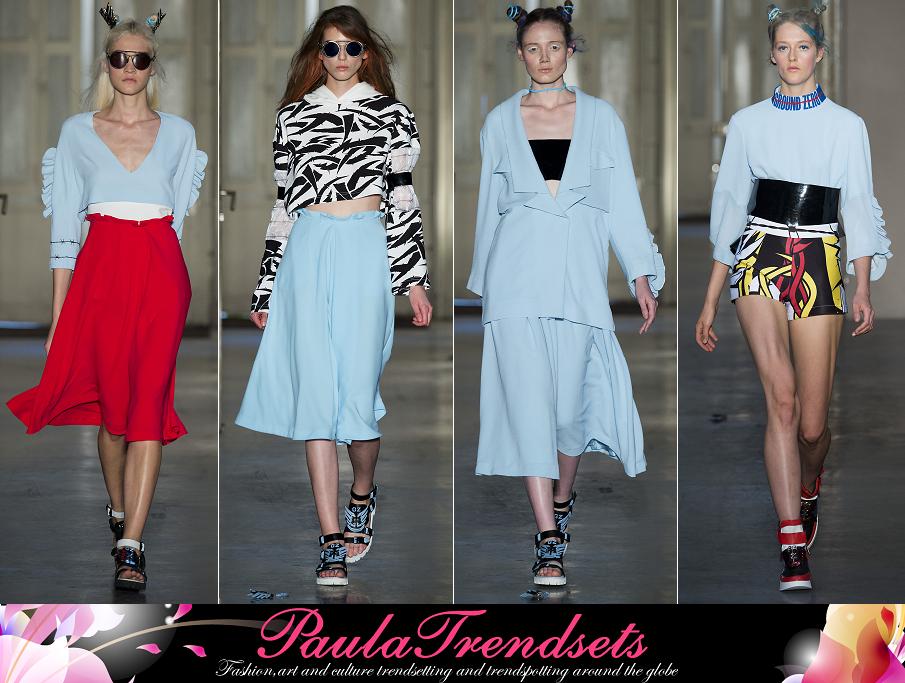 GROUND-ZERO's signature paradox plays a part throughout the collection. Smooth, uncluttered lines are the first impression of the collection. Yet the occassional ingeniously considered pleat, fold, ruffle,or irregularity perfect implements the minimal silhouettes adding to their distinctive appeal. Usual elements are transformed into well-crafted uniqueness which has transcended its mere form of existence.
Pic. 3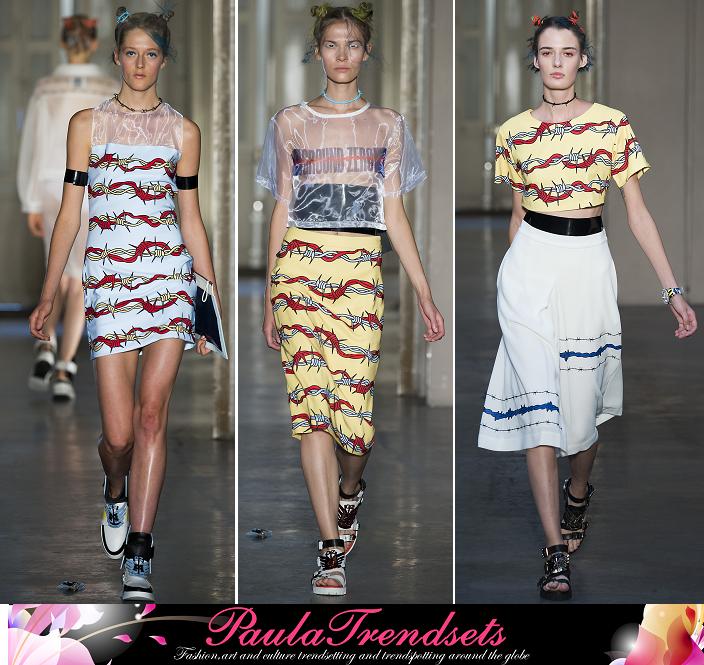 Printed denim-alike overalls made of sleek silk fabric and compounded mesh patches on the shoulders are perfect interpretations of this sophisticated roll-out-of-bed coolness. The softness and transparency segments are balanced with structural definition of shapes and lines, where sheer organza is decidedly trimmed with 3-dimensional iron wire embroderies. Architectural inspired shapes put particular emphasis on drop-shoulder silhouettes and assymetric detail to showcase a new feature of GROUND-ZEROS's signature modernity, which is bold, flirty, versatile, and with a futuristic take on contemporary design.
Pic. 4,5,6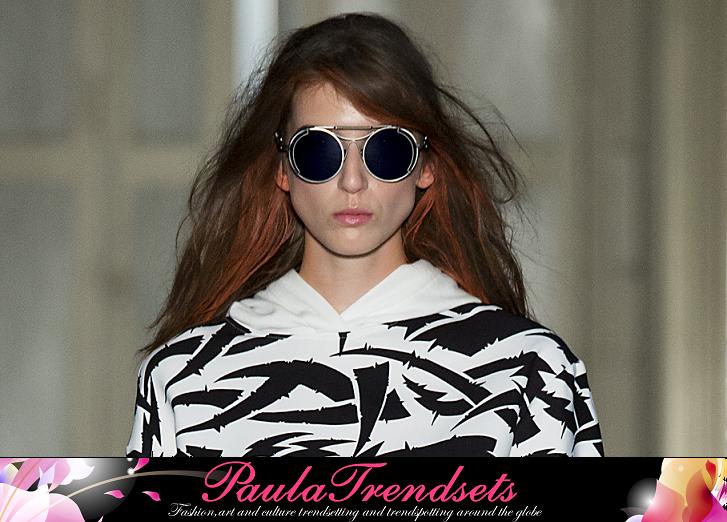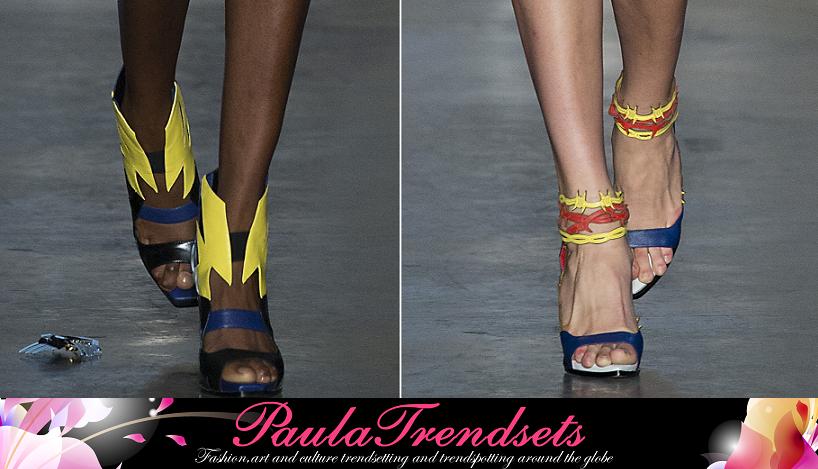 As a rising designer label blessed with great support every now and then, GROUND-ZERO's S/S15 collection makes no otherwise. This season, GROUND-ZERO is teaming up with the iconic fashion footwear brand and also its main sponsor, STACCATO, to create an exclusive shoe line. It also collaborates with GALTISCOPIO as fashion watch sponsor and GENTLE MONSTER eyewear to add an irridescent edge to the show.
 Pic. 7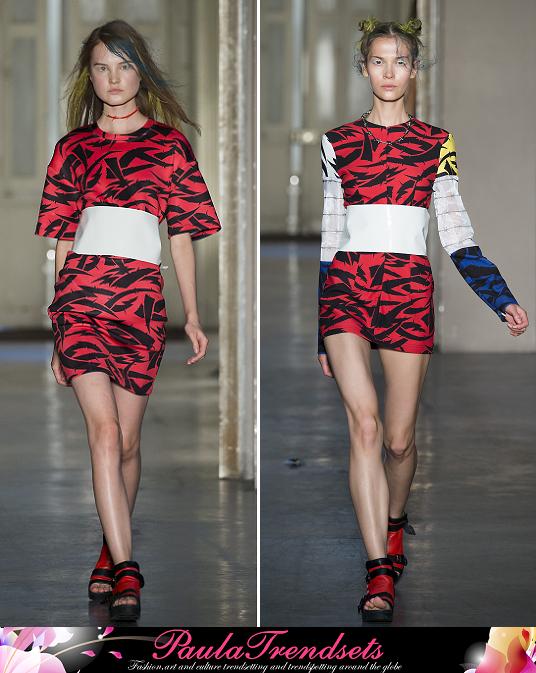 GROUND-ZERO manages to create artistically juxtaposing pieces yet with a unique appeal able to make a strong statement this season. Its transformative take on pop culcture and unconventional fabrics definitely reinterprets a concoction of street wear and ready-to-wear, which indicates a new era of modern GROUND-ZERO Gang.
Click here to see how you can get the colorful hair highlights runway look of GROUND-ZERO quick and easy!