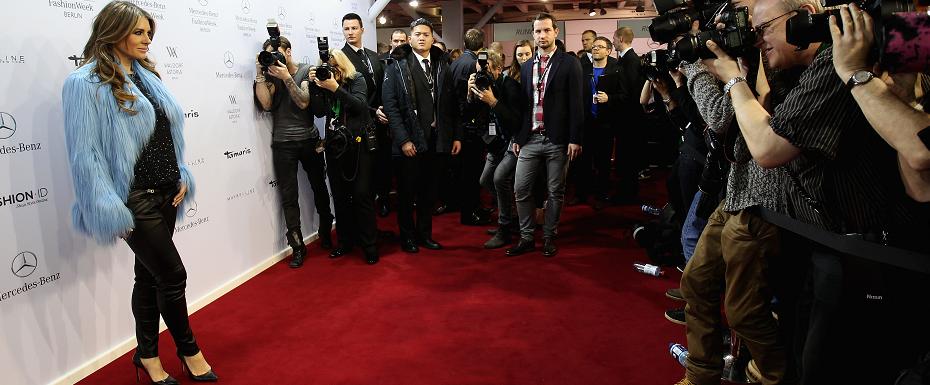 The world famous British actress and model Elizabeth Hurley was in Germany to attend the Marc Cain fashion show last week. Just before the catwalk show, she gave a short interview where she talked about her fashion DOs and DON'Ts.
Read it here or watch the video.
[Red carpet photography by Franziska Krug – Please give us a shout if you know the name of the interviewer, we love to give credits to the people behind the cameras!]
You are for the 2nd time in Berlin to see Marc Cain. What are you looking forward to?
– I had a wonderful time in Berlin last time last year at the Marc Cain show and when they invited me back again, I was really happy to come and see it. I think it's a very exciting time for German fashion. It's fabulous that we are in Berlin. And I saw such nice things in Berlin last year, and even though of course I haven't seen the show yet, I've seen a few little bits of what is going to be in the show and it's very much the sort of things I like. It's quite 1960s-inspired, it has this wonderful retro feel to it while still being very modern and cutting-edge so I think it's gonna be exciting.
Marc Cain is known for its excellent quality and good fit. The fabrics and the yarns come from Italy, while the knitwear is produced in Germany. Is it important for you to know where the goods are produced?
– Yes… I think it is an important thing up to a certain point and I think that anything that's made in the country in which it's sold, people certainly originate with them. But of course we are all European, so you know, for me, Europe is England, England is Europe, we are all together. But yes I think sometimes it is very nice to know. I know sometimes I am in America and there's some American brands that are made in the USA. I kind of like that for a certain t-shirts and things, I think it is a nice thing. So I think when things are manufactured in Germany, it must make German people feel very good. I am farmer and I like when people eat British food in England, so I get it.
How important is fashion for you?
– I think clothes are very important to me. Fashion, yes, up to a point. I love to see what's in fashion, I'll always be influenced by what's in, but I am way beyond the age of wearing something because it's fashionable if doesn't suit me. So when I find something that is both trendy and suits me, I couldn't be happier. But otherwise I'll wear something classic.
What do you like about your outfit from Marc Cain today?
– I'm in leather pants which I have to say … I have to say, I had a pair of leather pants probably for 25 years. I always buy a pair of leather pants. These are great ones. I like the reinforcing on the knees. They are very nice quality, they are thick and they've got a stretch, which is very nice. And the shirt is adorable, with little hearts on it. It's fantastic, I'm loving my outfit. It shall be repeated.
Which look from today's show do you prefer?
– Well, I haven't seen the whole show. It's gonna be a surprise for me when I see it. But I think, I love dresses, and there are some very sexy little dresses which I am hoping can come back with me in my suitcase. So probably the dresses but they've got some sexy jackets as well, so we'll see. I'll have a look what's coming out.
Do you know what you will be wearing?
– Yes, I do know. I am going to be keeping these pants on and I will have a little black top and I have a very interesting jacket. That's all I'll say.
We will expect you on the red carpet.
– I shall look forward to it!