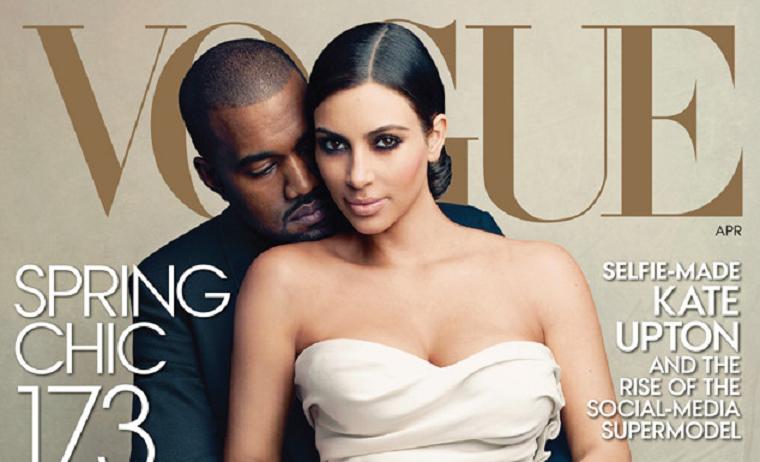 The decision of Vogue magazine to feature Kim Kardashian and husband Kanye West on the front cover of their April issue has sparked controversy these last few days.
On one side, Kim's fans are thrilled to see their style icon conquer the cover of the world-renowned, absolute fashion bible, but on the other hand, inspirational comme-il-faut fashionistas refuse to validate Kim as a personality worthy of the ultimate fashion honour.
Anna Wintour's editorial note defending the magazine's decision -they had obviously predicted what would follow the announcement of Kim's front cover- has not managed to convince the frustrated Vogue readers either. Actress Sarah Michelle Gellar tweeted she would be cancelling her Vogue subscription, calling on others to follow her example.
But how Kim Kardashian has grown so disrespected by the fashion crowds? Is it because of the reality make-money-fast formula that made her super-famous and filthy rich in no time and with no actual qualifications? Is it the fact that Kim's fierce curves have always clashed with the dominant body ideal of the high-fashion industry? Or is it just pure hate and envy?
I ran through a few dozens of comments on Yahoo!Celebrity and, among many of them referring to her as "simply trash", the most objective reasons why Kim would not deserve to be on a Vogue cover referred to her claimingly being a "no-brainer", and having never used her huge fortune or public image for a good cause or to promote common good. Something her PR team should take very much into consideration for the future.
My personal opinion about Kim Kardashian being featured on the American Vogue's cover is two-fold and very clear. First and foremost, money makes the world go round. Secondly, Vogue could not opt for a better advertisment. They got us all talking about their publication. This is smart marketing for the magazine – so when it comes to this, hats off to Anna and her team. After all, I don't think Wintour could ever be manipulated by anything than her own interests.
As about the photoshoot in itself, you can see below a backstage video to give you an idea of the outfits, the set ups and locations you will see in the feature. What do you think?