Most of you have been there. 
An invite arrives on the doormat or in your in-tray at work or email inbox; you've been invited to an event, and the dress code is strictly black tie.
Great, you think, an evening of great food and entertainment, with a charity auction and perhaps even a goody-bag to take home at the end of it. Before all that, however, you need to get past the thorny issue of what you're going to wear. Sounds a little silly when the dress code has been spelled out for you, yet it is amazing how many people misinterpret black tie as merely 'business formal,' and turn up to an event wearing their regular suit.
Getting it Right
Before we go any further, black tie means tuxedo with bow tie. Cummerbunds are usually optional, so we'll leave it up to you to decide whether you're going to wear one. Our only advice for you is that if you do wear one then go for the same colour as your tie. Oh, and stick to black, too. 'Black tie' doesn't always mean strictly black tie, it is more an indication of the overall dress code expectation, but if you're unsure, play safe.
Is It Acceptable to Hire?
As much as men might like to boast about the contents of their wardrobe, the reality is that not many of them are going to have a tuxedo in there. Yes, it is acceptable to hire a tuxedo. However, if such events are likely to become a feature of your social or professional life, it might be worth investing in your own; your only problem from now on is ensuring you maintain a consistent weight so that the thing always fits you!
Go For New Shoes
Our everyday work shoes can often get so battered that we barely notice, although they still pass as acceptable in the workplace. We would suggest that you go for new shoes if it's a black tie event, polish them once you've been, and then keep them in a safe place to act as your 'go to' shoes for any future occasions you're invited along to.
Style it Up
Make sure that, in terms of your personal look, you have it spot on for a black tie event. That means having your hair cut and styled correctly – get the cut two weeks before the event, so you regain some natural growth and appearence – and facial hair either neatly trimmed or removed altogether. We're not going to go into detail around personal hygiene. If we do, then you're a lost cause already!
Wear Jewellery
You don't see this on every black tie guide for men, but wearing jewellery can give an extra dimension to your look. Go for something modern and classy, such as a tungsten ring or a solid gold bracelet, which will stand out but at the same time be understated against your stylish tuxedo.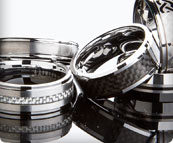 Black tie is easy, just keep it simple while looking to stand out, and the rest will take care of itself. Trying to get clever will end in disaster. Stick to the rules, look presentable, and jazz yourself up with a little tasteful jewellery, and you'll be home and dry.
[This guest post was written by Mens Tungsten Online, specialists in mens tungsten wedding bands]
You might also be interested in Style and Dressing Advice for Men