"Rhapsodie Impromptue" for saxophone and piano, the latest work of award-winning, world-reknown Greek-Canadian composer
Constantine Caravassilis
, will be making its world premiere Saturday the 16th February in Ayios Nicolaos, Crete, in the context of the Mikro Festival I (Small Festival I).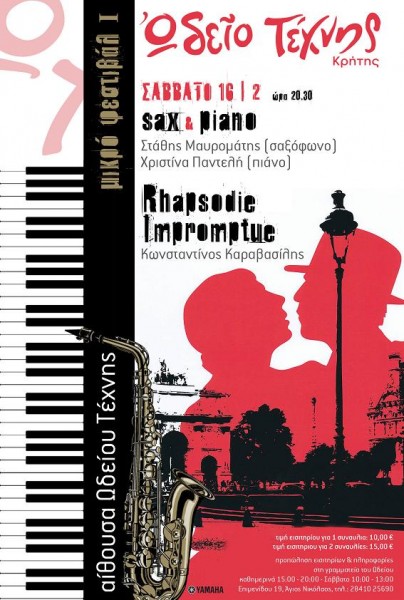 Driven by emotion, beauty and spirituality, and inspired by the worlds of nature and literature, Constantine Caravassilis' evocative music is intimately connected to his Hellenic roots, often drawing inspiration from ancient Greek mythology and Byzantine culture.
Born in Toronto to a family of amateur musicians, Constantine grew up in a culturally rich community on Samos Island, Greece.  Taking his first violin lesson at age six, he later switched to the piano and then founded his own orchestra and choir at age 15, giving annual concerts at the local lyceum.
Apart from being a prolific composer, Constantine is also an active pianist and conductor based in Toronto, which has been his home since his late teens.  He has conducted the gamUT chamber orchestra at the University of Toronto, and has recorded and premiered works by some 25 young Canadian composers to date.  Since his mid-twenties, and while still a student, he has enjoyed international exposure through multiple performances of his music in 20 countries and in important venues including Carnegie Hall (New York), Jordan Hall (Boston), Southam Hall (Ottawa), Bunka-Kaikan Hall (Tokyo), AlteOper (Frankfurt), Round Tower (Copenhagen), Smolensk Philharmonic Hall (Russia) and the Athens Concert Hall, to name but a few.  Additionally, his music has been broadcast by BBC3 in Britain, CBC Radio in Canada, CNN Turk in Turkey, TDK Radio in Japan and WCRB Radio in the United States.
In 2010, Constantine was named finalist for the Royal Bank of Canada Emerging Artist Award, in addition to winning a number of top honors including the Karen Kieser Prize in Canadian Music and the Harry Freedman Recording Award.  In 2006, he was declared Grand Winner of the Volos City International Composition Competition (Greece), where he was awarded three gold medals for his "profoundly mature style and highly individual compositional voice".  Jazz & Tzaz music magazine hailed him as "the most important Hellenic-descent composer of his generation".  He has also held composition residencies with the London Song Festival (UK), the Open Strings Festival (Denmark), the Contemporary Opera Lab (Winnipeg) and the Harp on the Hills Festival (Richmond Hill, ON).