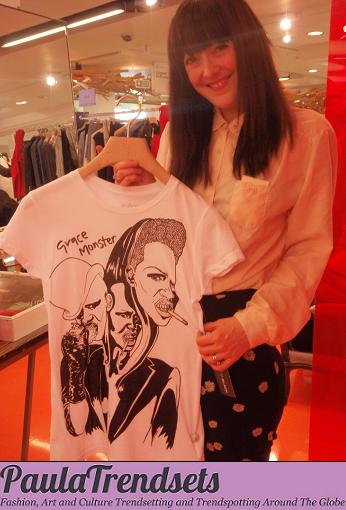 Sophie Stephens shocked the fashion world a couple of years ago with her controversial yet genius T-shirt lines "Style makes me sick" and "Blood is the new black", which both pictured sketches of celebrities either in the nude or in far than happy situations.
In her exclusive interview to PaulaTrendsets, Sophie Stephens shares her success story and offers advice on how to start your own t-shirt line.
On the day of the interview, Sophie was teaching a free drawing workshop in Selfridges London.
Scroll down to see pictures from the workshop.
[youtube]http://www.youtube.com/watch?v=4XA3uGrYxto[/youtube]
– We are at Selfridges with Sophie Stephens, the T-shirt genius. You are teaching a workshop today.
– It's kind of a micro class that I run already, a class with nudes and shoes. I always loved that drawing and it's really good for students too, to have this regular practice with a real life model you can't find… You know that's unlike drawing from a magazine model so that's really helpful to do. So well yes the normal course is about 3 hours long so this one is like a mini version of one hour. So we started off with some really quick exercises kind of free up the hands and get it going and then kind of finish with like longer pauses like half hours. That's all really.
– Do you always work with real life models?
– Yes. In the normal course it's actually proper nude but for Selfridges today we had to cover her up a bit – obviously.
– Tell us a bit more about your famous T-shirt series for House of Holland…
– I was really lucky to get introduced to him (Henry Holland) when I was in my last year in art school. A tutor actually introduced me. It was amazing. Henry was looking for a person to design the prints for his floral collection. So I went with the view to do that and showed him my sketchbook at the same time, which had a lot of celebrity figures I was doing at the time. A kind of hating celebrities thing for my final degree. And I think that reminded him of the idea he wanted to do for his next series of T-shirts so we had to get working with the celebrities. He wanted to do nude. And the flowers – it's just to go with that collection that he did. It was all floral. It had like huge daisies so it was just a complement to the main line collection.
– Did you actually get them to pose for you in real life?
– No, I wish. I didn't see Karl Lagerfeld in the nude. Unfortunately. I'd love that (laughs) No, unfortunately that was kind of taking the bodies, taking pieces of bodies of friends, I mean using bits of friends together and the faces were a mismatch of where I can find all these. Not really. And then the flowers were a kind of pictures going with the personalities.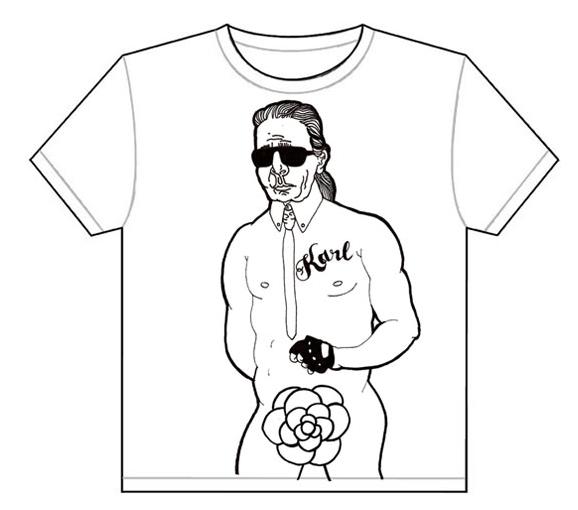 – What would be your main advice to a designer who wants to start designing T-shirts / drawing T-shirts?
– It's so easy to do, just do it really. You can either draw in a screen printing class, you can do it that way, or work on stencils. Just buy a line of t-shirts and just draw, 'cos that's a nice effect as well. It's so easy to do now. Get a blog. Advertise them on the blog. Easy.
– What are your future plans?
– I don't know… More. Just more. I really enjoy doing art direction and large scale murals at the moment. And I am also interested in doing more patterns. So pattern. 'Think cooperating figures…
[end of interview]