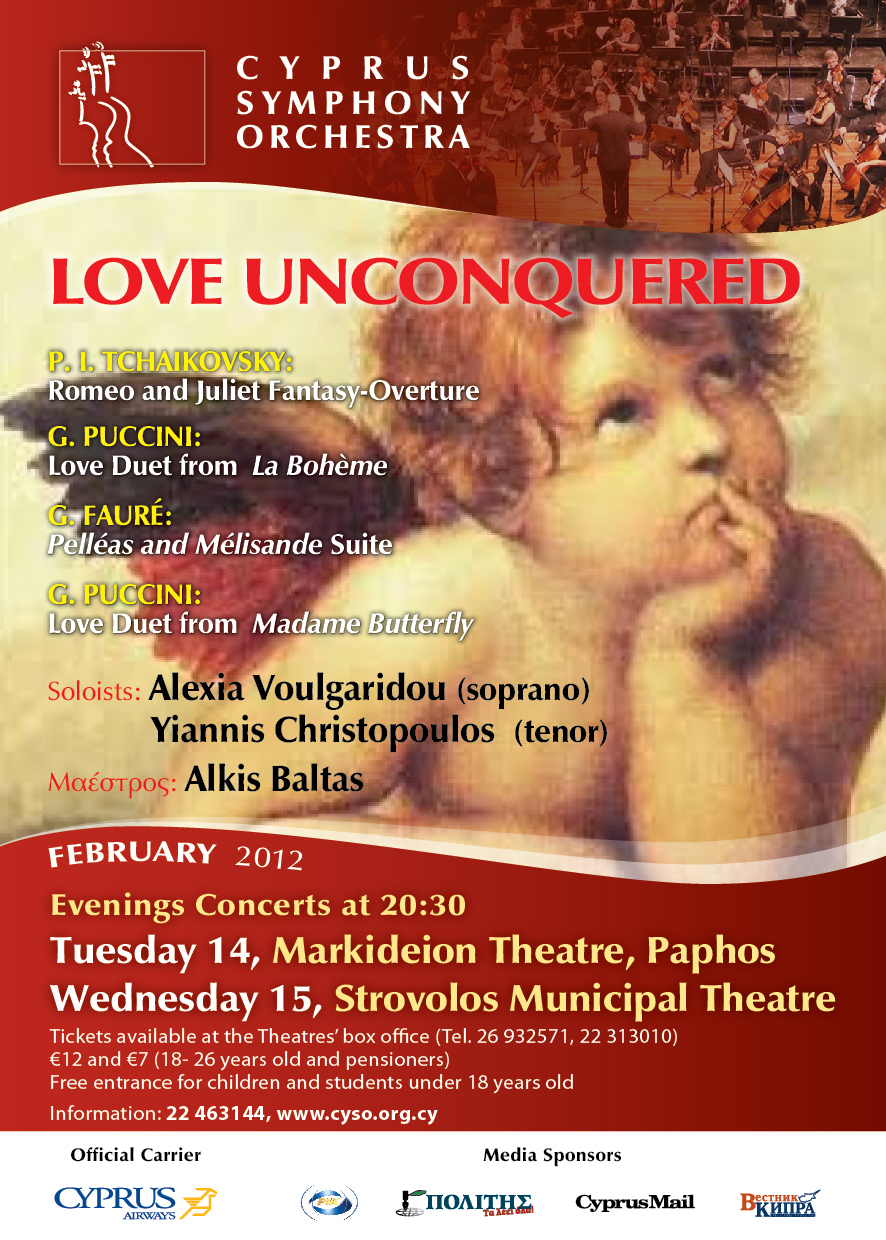 The Cyprus Symphony Orchestra presents an unusual thematic concert consisting of famous love duets on the occasion of Valentine's Day.
"Love Unconquered", under the Music Direction of Artistic Director Alkis Baltas and starring soloists Alexia Voulgaridou (soprano) and Yiannis Christopoulos (tenor), includes love duets of famous works such as Puccini's La Bohème and Madame Butterfly, Romeo and Juliet by Tchaikovsky and Pelléas and Mélisande by Fauré.
Two evening concerts which start at 8:30pm will take place on Tuesday 14 February 2012 at the Markideion Theatre, Paphos (Tel. 26 932571) and Wednesday 15 February 2012 at the Strovolos Municipal Theatre, Nicosia (Tel. 22 313010).  Tickets are available at the Theatres' box office at €12 and €7 (18- 26 years old and pensioners). Free entrance for children and students under 18 years old. Information: 22 463144 and www.cyso.org.cy .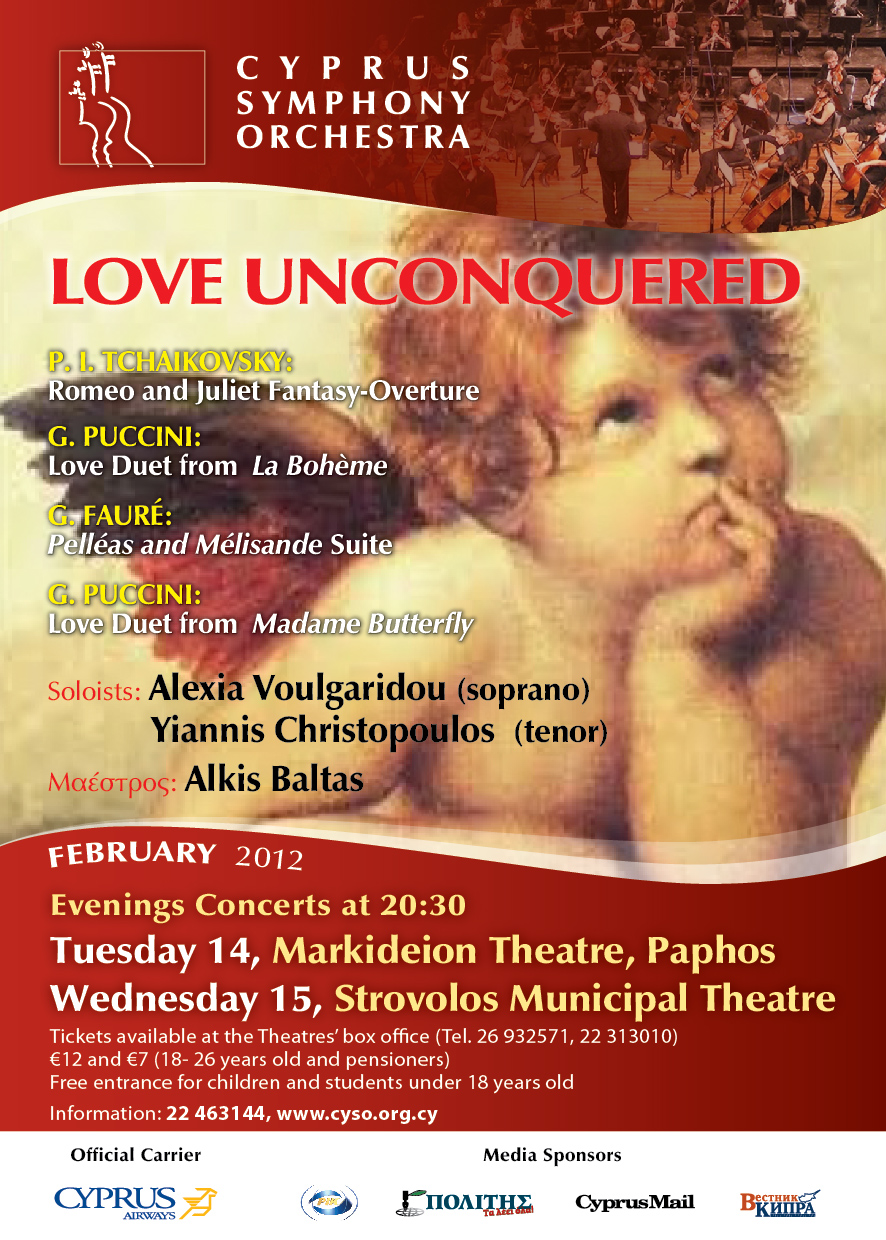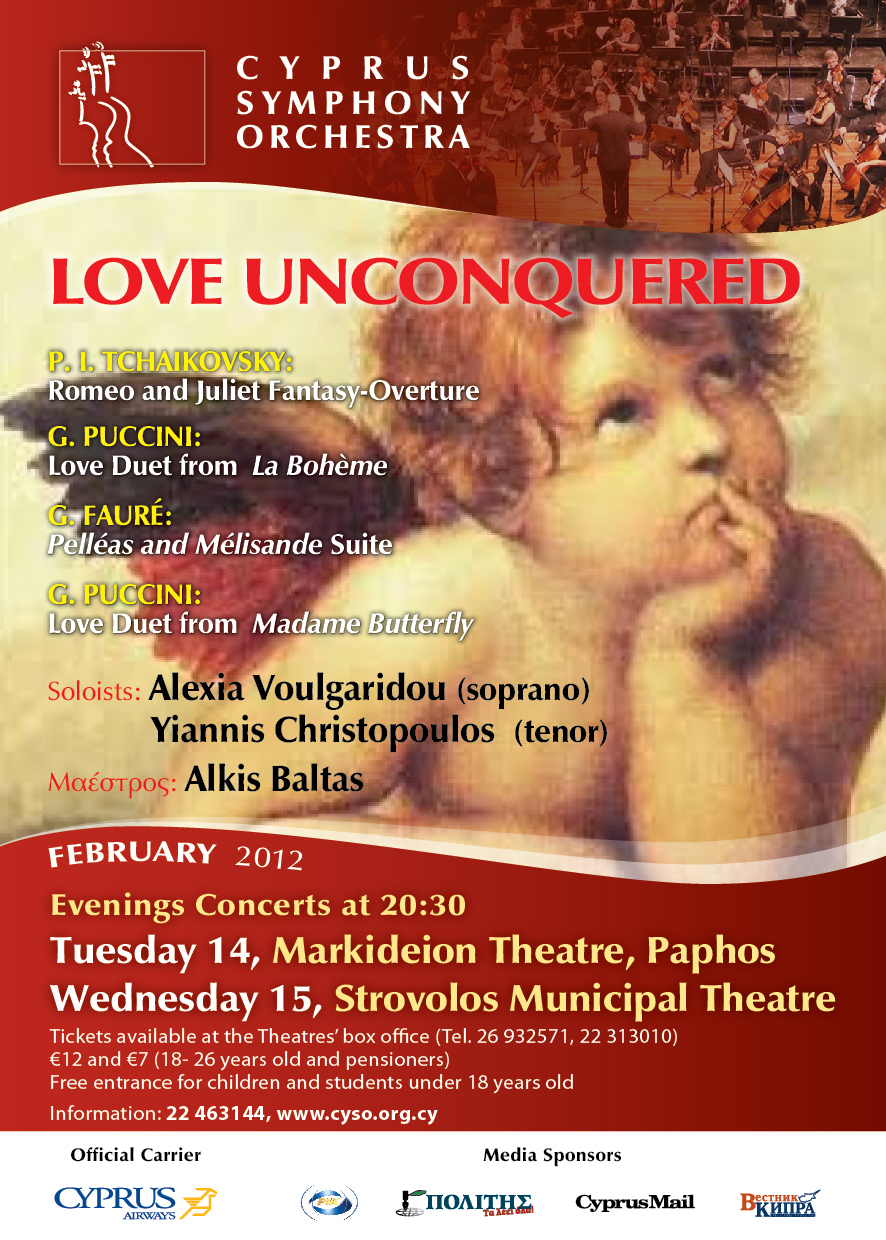 During the early 19th century Russia, there was an ever-growing desire for stylistic advance and folklore unearthing, and the majority of composers were duelling over "music westernism" vs. "music nationalism".  Glinka was the first to set the foundation for a Russian nationalist school, which was soon established by the "The Mighty Handful" – Balakirev, Borodin, Cui, Mussorgsky and Rimsky-Korsakov. Tchaikovsky, on the other hand, having received formal music training, was considered an eclectic composer. He was in his 20s when he fell under Balakirev's influence. In 1869, as a gesture of appreciation, Tchaikovsky dedicated his symphonic poem, Fatum, to Balakirev, who nevertheless found it "uncoordinated" and "weak", probably because the work revealed Tchaikovsky's formal conservatory training. Balakirev then advised Tchaikovsky to create a concert piece based on Shakespeare's Romeo and Juliet and suggested to him a general outline and possible themes to employ. The Romeo and Juliet Fantasy-Overture in B minor was revised several times by Balakirev before its premiere in 1870, in Moscow, but the composer withdrew it a year later for further revisions, before publishing it. Ten years later, Tchaikovsky revised the work again and re-published it in its final version – making it perhaps his greatest orchestral work. Unlike the symphonic poems of other composers of the time, Romeo and Juliet does not rigorously depict each scene of the play. Instead, it reveals the high values of the drama – fate, love and death – through a number of key themes, namely the Friar Lawrence theme in the introduction, the theme depicting the rivalry of the two families, the love motive and the funeral march.
La Bohème, considered Puccini's most sentimental opera, is about the lives and stormy relationships of four young students who share a garret on theLeft Bank in Paris – Mimi, who suffers from tuberculosis, the flirtatious Musetta, Rudolfo and Marcello. The drama takes place on Christmas day. It is terribly cold and although the four students are poor, they have their hopes, dreams and wittiness to keep them warm and optimistic. Mimi and Rudolfo fall in love at first sight, when, in Act 1, Mimi enters the garret to ask him for some matches for her candle. The two sing elatedly of their passion before joining their friends at the café.
In spring 1898, Fauré was approached by actress Beatrice Campbell with a commission to write the incidental music for an English version of Maurice Maeterlinck's symbolist play, Pelléas et Mélisande. The production would take place in June, at the Prince of Wales Theatre in Piccadilly, therefore Fauré, with the help of his student at the Paris Conservatoire, Charles Koechlin, wrote the play's nineteen pieces of incidental music in less than six weeks. After the premiere, the composer decided to turn the pieces into a three-movement orchestral suite, and by 1909, he revised the work again, this time by adding a new movement – the famous Sicilienne. The work, in its final form, was premiered in Paris in 1912. Pelléas et Mélisande was in fact a popular subject among the 20th century composers – notable examples are Debussy's opera and Schoenberg's symphonic poem with the same title. The play, taking place in a medieval fantasy world, deals with the delicate and complex issue of forbidden love: Mélisande is married to Golaud but is in love with his brother, Pelléas. When Golaud finds out about his wife's infidelity, he kills his brother and fatally wounds Mélisande, who dies after giving birth to their baby daughter. The work opens with a melancholic Prelude. The second movement, Fileuse, depicts Mélisande, happy at her spinning wheel. The Sicilienne was originally composed for cello and piano, but in the Suite, is played by the flute and harp. The Suite ends with the elegiac La Mort de Mélisande.
When Puccini composed Madama Butterfly, in 1904, his success in the operatic world was unparalleled; his previous two operas, La Bohéme and Tosca, had both become worldwide sensations, therefore, he was confident enough to touch the sensitive subject of cultural differences. A tale of love, betrayal and remorse, Madama Butterly recounts the story of a beautiful Geisha, who has renounced her religion and family to marry the American naval officer, Lieutenant Pinkerton. Brushing aside the warnings of her surrounding about Pinkerton's impulsiveness and intentions to marry an American girl once back inAmerica, Butterfly is wholeheartedly devoted to him. She marries him and spends only one night with him. He then sails forAmerica and disappears for three years. Butterfly has, in the meanwhile, given birth to their son. Once back inJapan, Pinkerton is accompanied by his American wife, and Butterfly stabs herself to death. The Act 1 Love duet is sung by Pinkerton and Butterfly after their wedding, during their first night together. He sings with tenderness and desire and she, with child-like devotion, asks only for his love.
The Artists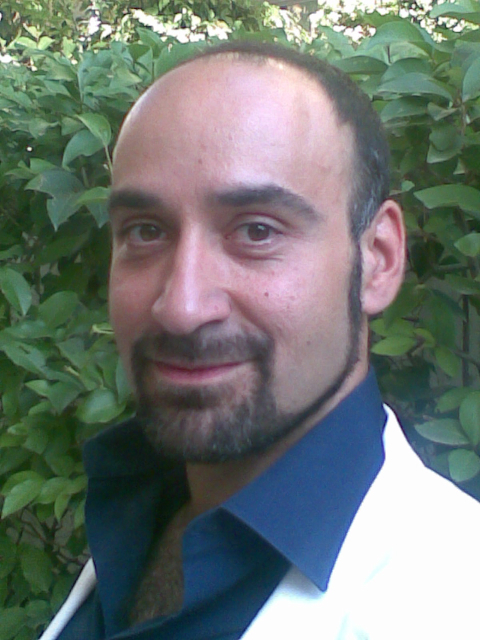 Yannis Christopoulos was born in Athens. From a very early age he studied Byzantine music and afterwards received classical vocal training. He completed his studies in Cremona, Italy.  Upon completion of his studies he started to sing roles of the classical and contemporary repertoire at the National Opera of Athens and the Megaron Hall in Athens and Thessaloniki. He has worked with all the major orchestras in Greece.  Mr. Christopoulos has appeared in opera productions and concerts at International and Greek festivals such as the Greek Festival, Demetria, Santorini and Nicosia Festivals, Maggio Musicale Fiorentino, and renowned concert halls such as Carnegie Hall, Musikverein Brahms Saal, Auditorio Nacional de Musica Madrid, Cairo Opera House, and many others.  His rich discography includes the opera The return of Helen by Thanos Mikroutsikos issued by EMI classics, the cycle of songs In my home perfect stranger by Thanos Mikroutsikos on poetry by Francois Villion, the oratorio Chronicles of the Fall by Giorgos Hadjinasios based on the work of Georgios Phrantzes, the oratorio The Revelation of John by Tasos Ioannidis, the one-act comic operetta Le docteur miracle by Georges Bizet (foreign production). Since January 2008 he is president of the Lyric Soloists Union of Greece.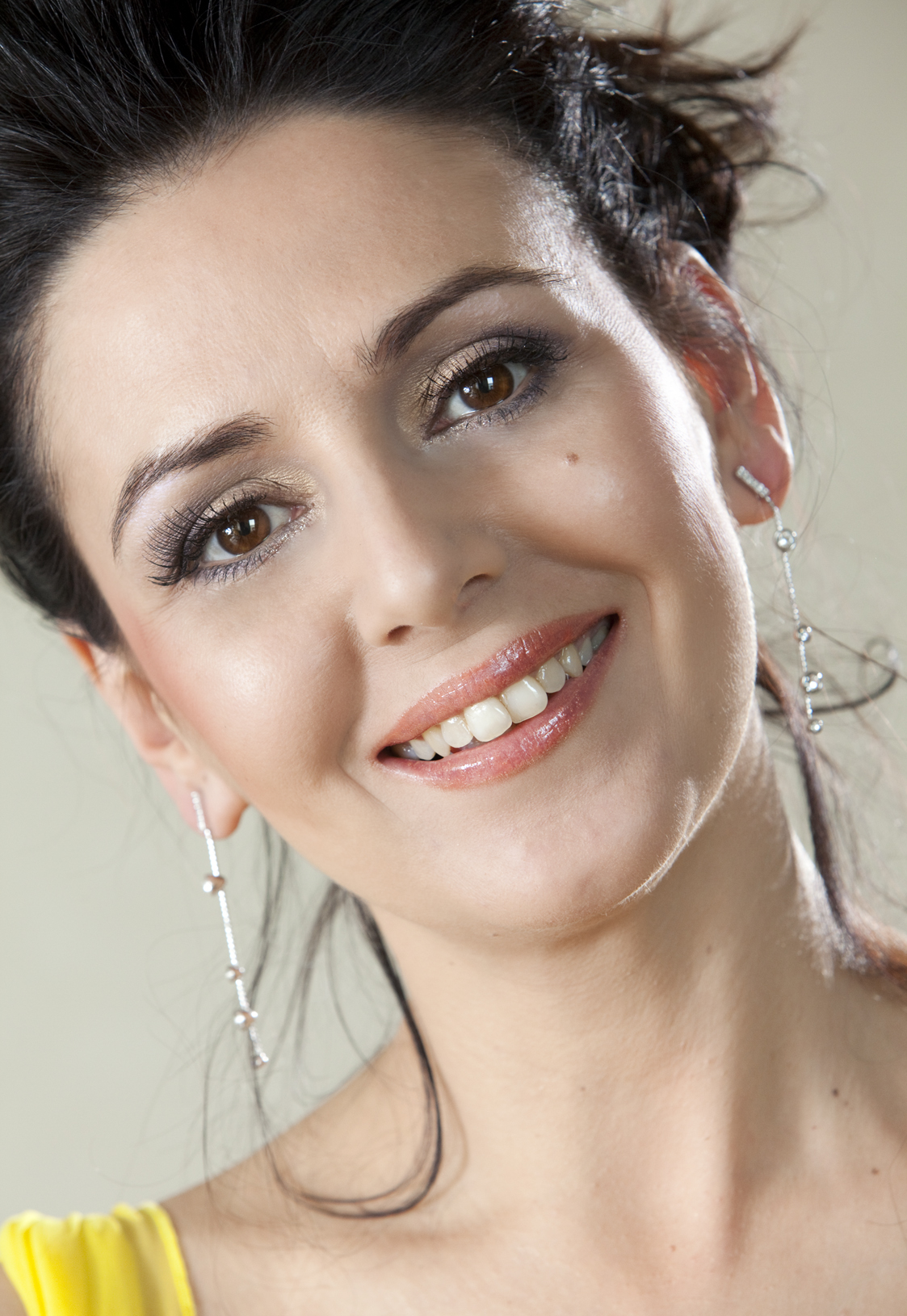 Alexia Voulgaridou studied at the Athens National Odeon and at the Munich Music Academy with Daphne Evangelatos. She started her international career at the Bregenz Festival in the role of Mimi in La Bohème next to Rolando Villazon and at La Scala of Milan as Manon. Highlights of her career include: Romeo and Juliette in Atlanta, Verdi's Requiem in Ravenna with Riccardo Muti, Otello in Hamburg with Simone Young, Carmen in Valencia with Lorin Maazel, Dialogues des Carmelites with the Hamburg State Opera, La Bohème with Berlin State Opera with Gustavo Dudamel, Anna Bolena at the Teatro Massimo of Palermo, Turandot with Zubin Mehta in Valencia. In 2008 she made a series of outstanding performances which gave her career a tremendous boost: La Bohème at La Scala of Milan under the baton of Gustavo Dudamel, La Τraviata at the Hamburg State Opera, La Bohème at the Royal Opera House Covent Garden, Luisa Miller in Valencia with Marcello Alvarez and Lorin Maazel. In 2009 she interpreted the role of Marguerite in Gounod's Faust in Valencia, which she recorded with Andrea Boccelli in Palermo, under the baton of Michel Plasson. Ms Voulgaridou has recorded a personal album titled "A portrait" with the Bavarian Radio Orchestra in Munich (BMG), La Clemenza di Tito (Sony BMG) and La Rondine with the Sidney Symphony Orchestra. She also has numerous performances on DVD such as Mimi in La Bohème at the Bregenz Festival, next to Rolando Villazon and the Vienna Symphony Orchestra, as Blanche in Dialogues des Carmélites by Poulenc and as Liu in Turandot with Zubin Mehta in Valencia, which was awarded by Gramophone. She also had a very distinguished appearance in the film Deux in the role of a singer next to actress Isabel Huppert for the Festival of Cannes. Some of her recent appearances include Carmen at Caracas with Gustavo Dudamel, Liu with Lorin Maazel in China, La Bohème at the German Opera of Berlin and Manon by Massenet at La Scala of Milan. In December 2010 she toured theUSA with famous tenor Andrea Boccelli.