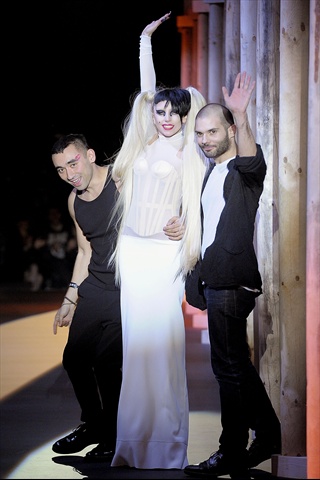 I can't be 100% sure that a professional field as competitive as the world of fashion is able to nurture pure, altruistic friendships, but I am romantic enough to tend to believe that we had a couple of nice examples of friendship in fashion in the past few days.
Of course the case of Lady Gaga and Nicola Formichetti can be conceived as a win-win situation, as the BFA honoured stylist plays a major role in styling the outrageous outfits which keep the world buzzing about the singer every few days. Catwalking for Formichetti's first collection for Thierry Mugler is the least she could do to help Nicola's virgin show hit the headlines. In the end of the day, she owes him many a headline she made because of his almost scandalous styling. Before we called the game even though, after the Mugler show, Gaga showed us that she and Nicola are maybe more than showbiz partners. The moment I heard she bought the whole collection, I felt real friendship might be in the air.
[youtube=http://www.youtube.com/watch?v=FwxtNiaoV9A&oref=http%3A%2F%2Fwww.youtube.com%2Fresults%3Fsearch_query%3Dlady%2Bgaga%2Bgovernment%2Bhooker%26aq%3Df&has_verified=1]
A few days earlier, the American Academy Awards ceremony was held some 24 hours after the arrest of John Galliano on allegations of verbally attacking a Jewish couple in Paris. While all Hollywood stars kept their distance from Dior's artistic director, Nicole Kidman walked the red carpet in a white gown from his haute couture Spring-Summer collection for the french fashion house. Given that all actresses always have at least 2 or 3 alternative outfits for the Oscars, it's not by chance that Nicole chose to wear Galliano at such an awkward moment for the designer. Although I doubt that she would have done the same after the revelation of Galliano's "I love Hitler" video -as I doubt that her other 2 designer options could have been any more ambiguous than this love-it-or-hate-it folded napkin dress- I have to admit that it was really brave of Kidman to show her support to the designer's ordeal on the red carpet. This must have been no other than altruistic friendship or stupidity -apart from a styling and PR disaster.