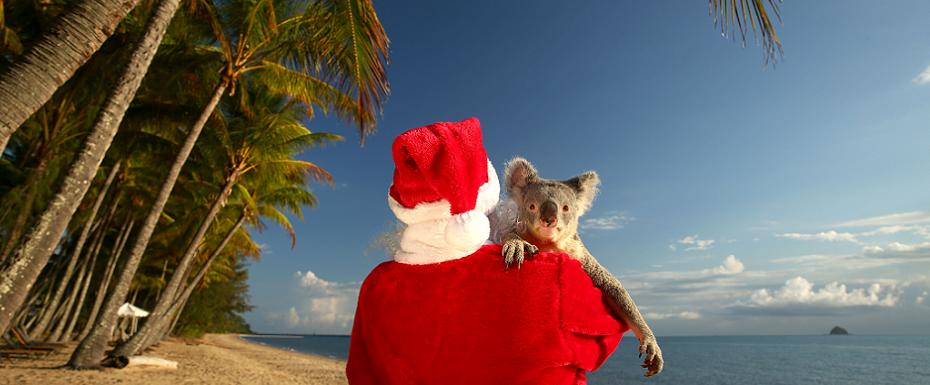 Ever wondered where Santa goes to de-stress little before the big day of Christmas each year?
Forget the traditional cold, soggy Christmas; the jolly man in the red suit has ditched his sleigh for a stand up paddle board and headed DownUnder to enjoy a sun-filled Queensland Christmas escape.
The Sunshine State, also known as Queensland, offers more than 300 sunny days per year, a 7,400 km coastline boasting the most beautiful beaches in the world  and the largest and most extensive coral reef system on the planet – The Great Barrier Reef.
And Santa is loving it!
Photos have been leaked of the big man in a red sneaking in a pre-Christmas Queensland escape before his annual duty, delivering millions of gifts to children around the world.
"When it's dark and cold at home, the best place to be is Queensland. This place sparkles brighter than the tinsel on a Christmas tree … and it's all natural," a chilled Santa said while giving a Koala a cuddle.
Thanks to Santa, today's featured Christmas article pays homage to our Australian friends and readers and gives you a glimpse of what Christmas is like at an exotic destination in the Southern hemisphere.
(Photography by Mark Kolbe/Getty Images for Tourism Queensland)
 Merry Christmas to all!