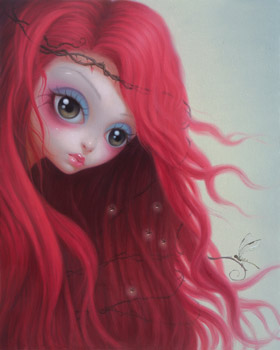 I became a fan of Chen Hongzu about a year ago, when I discovered her first exhibition abroad, in James Freeman Gallery, London, where she returned tonight to present her latest paintings.  
(read in greek HERE – για ελληνικά ΕΔΩ)
The young Chinese artist has managed to create her own trademark style in characters that I can now instantly recognise.
Last year, I fell in love with her "What is Memory" series of paintings, picturing cartoonish, yet melancholic zoomorphic portraits which express the loneliness and uncertainty of a generation of only childs -her own generation- in a changing China, new to the values of capitalism and consumerism that their parents' generation had never experienced.
Chen's 2nd exhibition in James Freeman Gallery opened tonight under the title "Bitter Sweet", a phrase that fits perfectly her individual artistic identity. 
"I believe that in every person's heart live two children– one that turns to the light and another that feeds on darkness. Your entire life you must look after and appease these two children. I often paint people and animals together because I feel animals embody a kind of collective human unconscious. Our inner naive and reclusive self can be expressed well by the animals, almost as if they are mirrors showing a reflection of humanity. My pictures often obscure the boundary between man and animal, and in this way display an even clearer view of humankind.", says Hongzu.
(read also "I'm all ears – big, fluffy ones")
"Firefly" and "Ophelia's Blossom" (watch the swan on Ophelia's dress – a timeless symbol of feminity and fertility since antiquity, graceful yet leaning its head vulnerable and sad in this image) are typical of Chen's work which is worth seeing sometime between tomorrow and the 6th October.
James Freeman Gallery, 354 Upper Street – Islington – London N1 0PD
T: +44 (0)20 7226 3300 – F: +44 (0)20 7226 7231
Opening Times: Tue – Sat 11 – 6:30 or by appt
Travel: Angel tube, 2 mins | Kings Cross St. Pancras 10 mins | Buses 4, 19, 30, 38, 43, 56, 73, 153, 214, 274