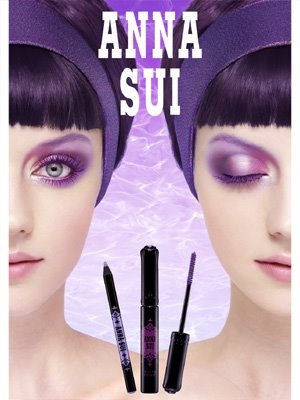 Anna Sui cosmetics and make-up have long been among my favorite brands for a handful of reasons; glamorous yet romantic and feminine design inspired by the Belle Epoque, high quality, perfect result, and the characteristic rosewater scent in every single product of the makeup line from powder to mascara.
Even though the eclectic brand is slightly more expensive than the usual mainstream beauty brands, it's certainly not over-priced as the quality of the range totally justifies the cost of purchase of these exclusive, hard-to-find cosmetics from Japan.
The complete range of Anna Sui cosmetics and make-up can be viewed here but, if we're talking about my recommended absolute essentials, then start from Super Mascara Dx Waterproof  in Black for a long-lasting, smudge-proof curling effect and Anna Sui lip gloss  in 304, 601 and 602 for a glossy yet subtle, almost natural shine.