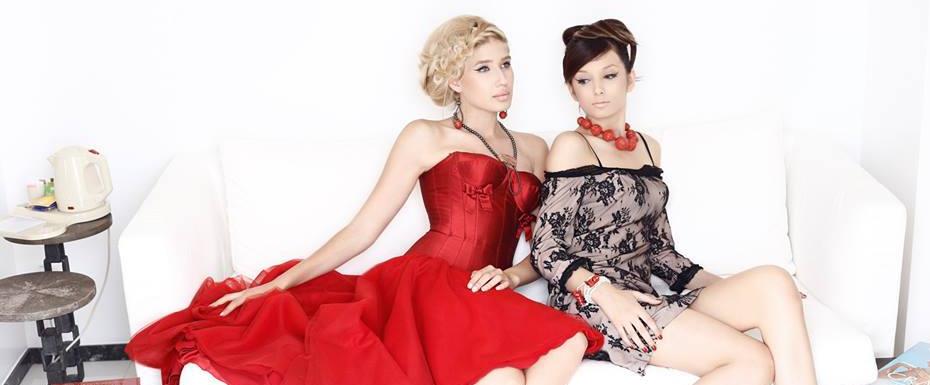 Red carpet or black tie event? Big date or high class party? When you need to dress to impress at a jaw-dropping, show-stopping level, then romantic glam is what you need.
Hairstylist Argiris Raftopoulos has shared with beauty blog Woman Meeting Point and PaulaTrendsets shots from his recent romantic glam fashion editorial, so we can show you the basics of romantic glam in a few easy steps.
Hair
Loose updos, ρomantic braids or side-braids.
Makeup
Thick eyeliner for cat-eye effect, natural lips, subtle blush
(a rich lipbalm and mousse blush on the cheekbones are what I personally use)
Dress
Choose open shoulder or just strapless.
Delicate lace always works for the romantic glam style, and it's more suitable for dates and dinner parties – you may go for a pastel dress or plain color lace, but, if you want show-stopping, you would rather dare a contrast like the lace dress we have here with black on beige.
Dresses with corset tops and full skirts or bold colors like red, or both, are more appropriate for red carpet or black tie events, where you are free to show more of an extravaganza in your sartorial choices.
Accessories
Since your dress should be your main eye-catcher in this look, don't go too far with the shoes you pick. A classic pump in a plain color would do. On the contrary, jewellery should be interesting and luxurious. Avoid big faux crystals which could prove a style risk and prefer unique pieces of -preferably handmade- jewellery that everybody is gonna be envy of and ask about.
Photographer: Jiorjia Jester
Creative director/hairstylist: Argiris Raftopoulos
Head make up artist: Mary Rokkou
Mua: Despina Papaioannou, Maria Paleologou, Melina Petropoulou
Assistants hairstylists: Voula Kakouri, Marilia, Vasso Zogopoulou, Stanciu Maria,Marina Gewrgiou
Models: Ina lsk, Stefania Brugos
Handmade jewellery: Mike Sparopoulos
Fashion designer: Miltos
Photoshoot assistant: Rezakos
Model supervisor: Dimitrios Constantin Makris
Location: Hotel Grecotel Pallas Athena