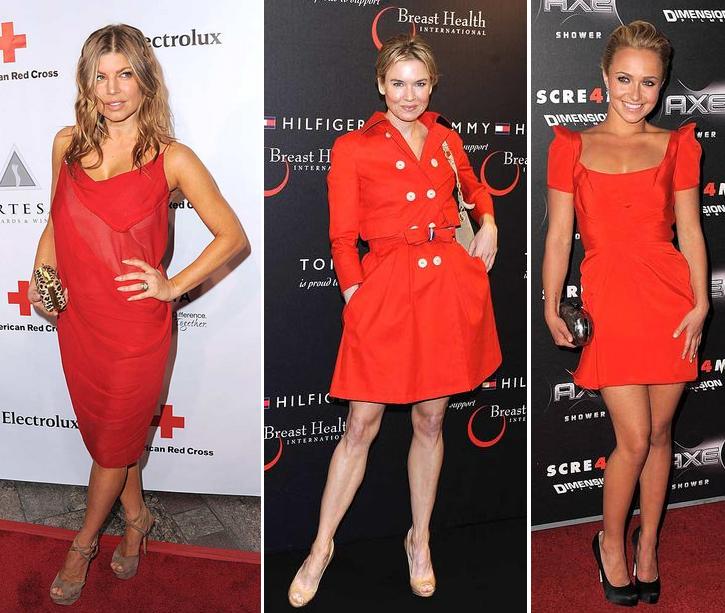 Looks like Easter came some 2 weeks earlier in Hollywood. How else can I explain why a handful of A-listers picked dresses to match the red carpet, all in the 2nd week of April. It goes without saying that some of them looked great in red whereas some others looked a state; red is as dangerous to style as animal prints, in terms of how-to-wear combos.
From left to right, Fergie in a red dress that conceals all her best body features, hiding her waist and curves, matched with nude high-heels and a leopard print clutch bag. Renee Zellweger looks absolutely gorgeous in a sophisticated, red-dominated outfit matched with nude accessories. Very correctly, the stressed waistline creates the illusion that the skinny figure of the actress is more curvaceous. Hayden Panettiere is sexy and cute in this red mini dress, ideal for her age and figure, matched with black accessories.
Red was a major trend at this year's Oscars as well. Although the red color is rarely missing from such glamorous events, this year it was the color of the most fabulous looks we saw on the (equally red) carpet. The disastrous, extravagantly pailletté frock of Penelope Cruz was the only exception.
Here is a couple of red dresses I'd recommend if you would like to wear the "Easter red" trend in real life. Match them preferably with nude accessories. Black will make the look too sharp, whereas gold will make it too flashy. It always depends on the circumstance though and your sense of good measure.