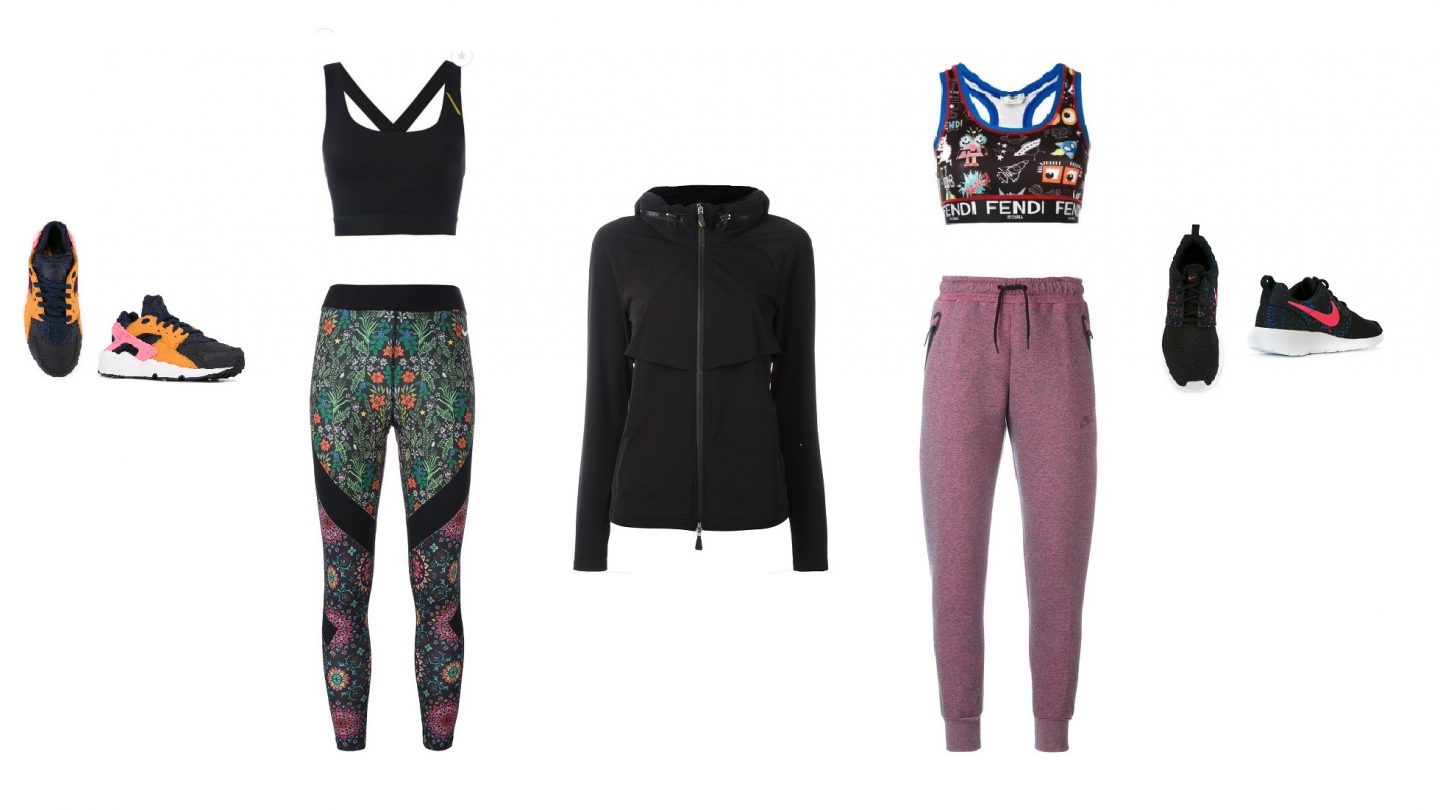 Athleisure is gaining ground all the more among our daily style habits as we move towards spring and as we become more focused on our fitness goals for 2017. Fitness fashion should be simple, practical, and weather-resistant by definition – but it doesn't have to be boring or lacking in fashion awareness.
Turning to established sports brands and designers' activewear is naturally a reassurance for all the above; comfort, durability and -of course- immaculate style even at your most sweaty moment on the gym floor or at the mud run.
During my latest online shopping spree for the next athleisure outfit which can take me from fitness training to weekend strolling to casual grocery shopping, I came across a delightfully vibrant range of activewear at FarFetch.
As a matter of fact, I put together three P-E-R-F-E-C-T activewear outfits which I thought you would also enjoy. Although I tend to prefer my fitness fashion colorful, glossy and motivating, I wanted to keep those athleisure outfits balanced, so I only picked one busy print for each style and matched it with quieter staple pieces. They all get across the statement of a fashionable, restless, and achieving woman who loves to have fun marking real-life goals in any field – and the world should see this.
_____________________________________________________________________________________________
 1.
Digital Action Hero
I love these comfy pants in this warm pink/purple color. The Fendi sport top gives a fashionable edge to the outfit, adding humor, gloss, and a powerful style standpoint. As you will notice, I have only chosen Nike shoes for my outfits – I just adore their impactful color combos! The ones I chose for this here are classic black running shoes with a girly pink Nike logo and lovely pink and blue spots that match the digital / videogame theme of the Fendi top. Add a must-have black Sàpopa jacket with an effortlessly cool pleat front design and you're sure to stun.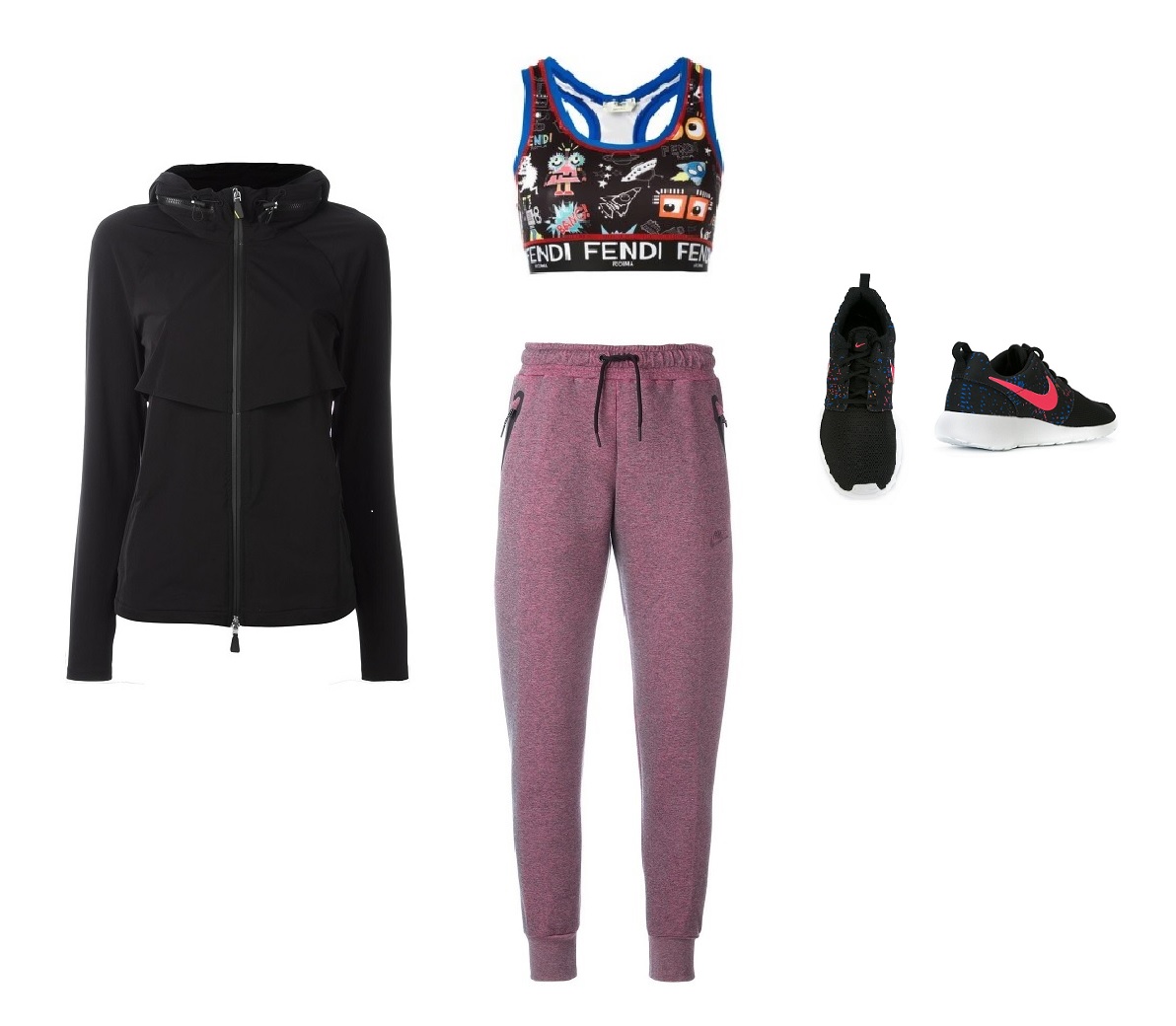 Fendi monster sport top
Nike NikeLab x Kim Jones tech fleece track pants in Pink/Purple
Sàpopa pleat front fitted sport jacket in Black
Nike 'Roshe One' printed sneakers in Black
_____________________________________________________________________________________________
2.
Rainforest Trek
These glossy leggings featuring a multi-color print that beautifully blends what seems to be wild flora patterns with tribal, can only be matched with a quiet, classic sports top with a slight color reference which connects it to the aforementioned busy print; the random yellow stripe on the shoulder. On the contrary, the footwear becomes an extension of the punchy colors that we see on the leggings, thanks to the shoes' matching orange, pink, blue and black panels. As you understand, the Sàpopa jacket is my indisputable activewear staple piece. Looking at this outfit as a whole, I just love its overall symmetry and geometrical harmony.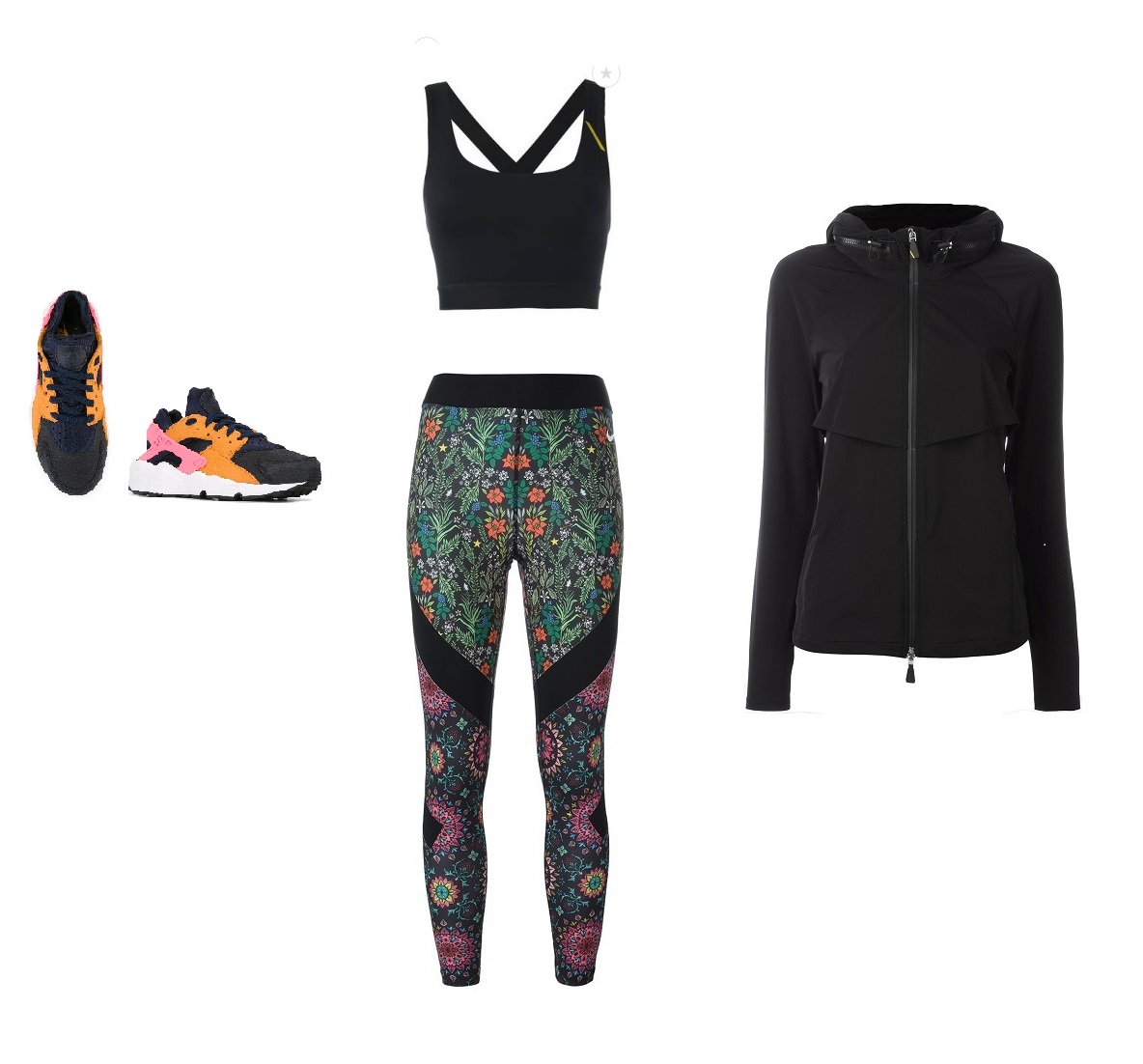 Nike NikeLab x RT floral leggings
Sàpopa crossed back sports bra in Black
Sàpopa pleat front fitted sport jacket in Black
Nike 'Air Huarache Premium' sneakers in Orange
_____________________________________________________________________________________________
3.
Urban Dynamics
This minimal, yet posh outfit is definitely fit for the belles of the gym. The black jumpsuit outlines the silhouette, while the multi-shade pink/purple prints and panels of the Nike sneakers add the essential fashion statement. They are matched with a bright pink/purple Sàpopa jacket in a very original design with cuts that add texture, energy and movement to this otherwise soft and feminine outfit. I can totally see this style taking me from yoga class to the nearest cafe for a post-workout juice and espresso.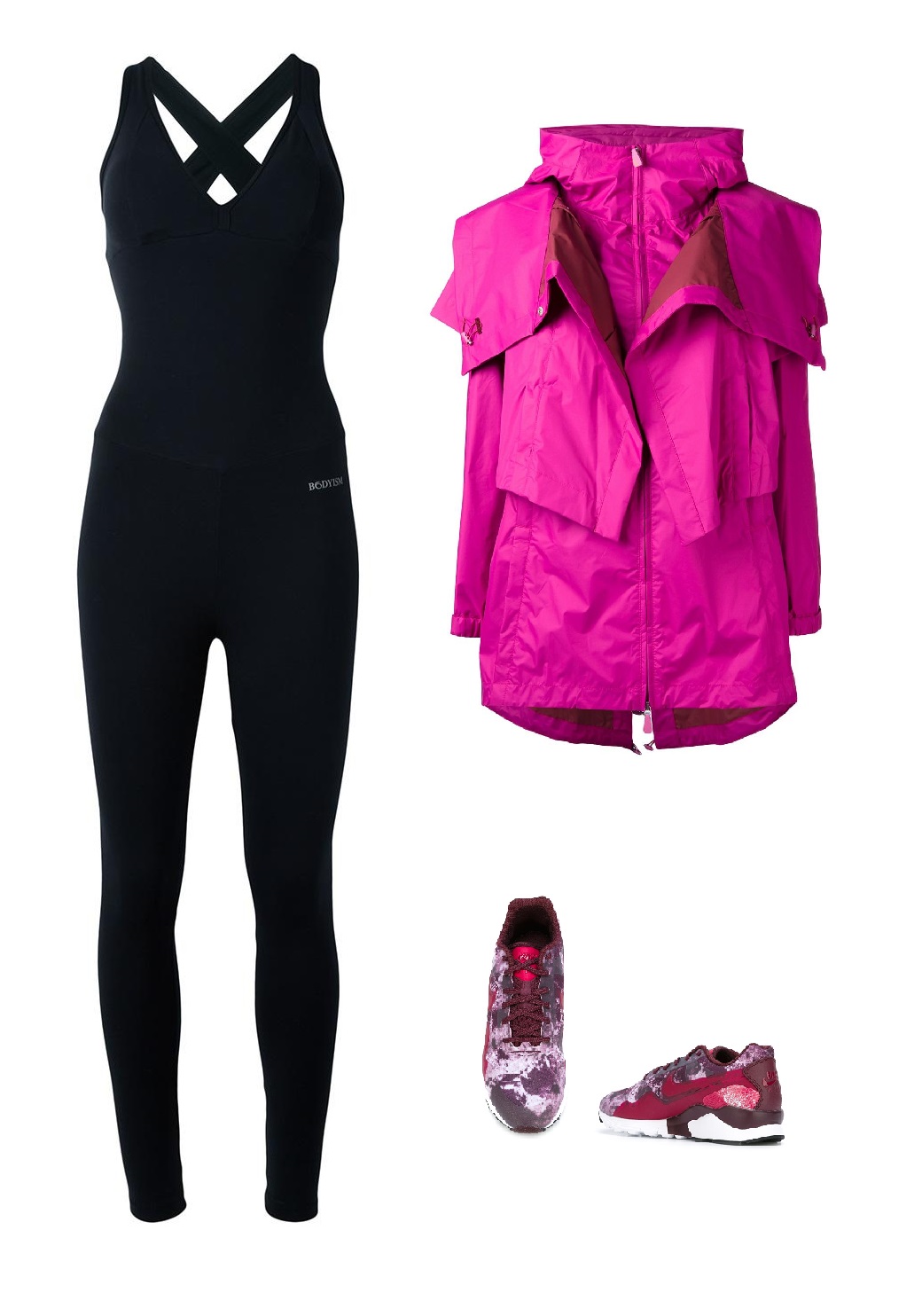 Bodyism I am Sultry jumpsuit in Black
Sàpopa hooded parka in Pink/Purple
Nike 'Air Pegasus 92/16' sneakers in Pink/Purple
Shop Farfetch