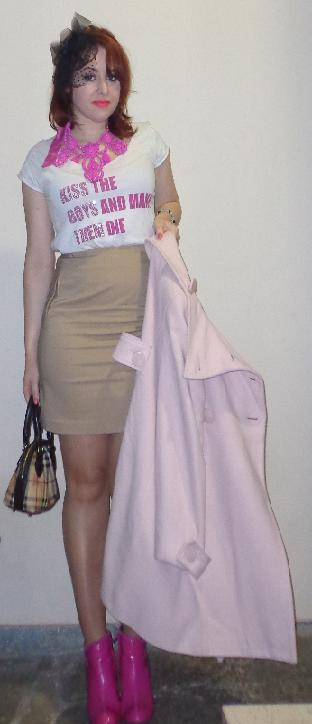 New Year's Eve has always been my best day to party. From dancing to '80s pop music at home with my parents and baby brother to celebrate for Santa's gifts when I was a little girl, to clubbing until early morning in my teenage years, for as long as I can remember, the night of the 31st December was a fun night to wait and sigh for.
Growing up into my twenties though, becoming more and more fashion concerned, New Year's Eve started to mean to me one thing more than the year's best chance to rejoice with friends and family I rarely see or dancing 'till dawn at mindblowing parties; it also started to mark stepping into the New Year in style and confidence for who I am and how all I wish and hope for the New Year are translated fashionwise. It has nothing to do with competition-driven ambition, as one might think. It's clearly a promise and a reassurance of style evolving in parallel with personality growing.
As I consciously went through a deliberate, complete life transformation through 2011 and 2012, wavering over difficult personal and professional decisions and lovingly surviving them, I wanted something saucy and sophisticated at the same time to welcome 2013. Something to reflect both my new strength and determination in facing challenges, as well as the ever funny girl within me. And I was lucky enough to find my wish in an amazingly witty t-shirt that my mum went all blushed and furious when she saw me wearing. The "Kiss the boys and make them die" logo t-shirt by F.A.K.E., was the central piece that inspired my New Year's Eve outfit.
1.
I can never get enough pink in my life, can you? I prefered to style the outfit not so flashy though, matching neon and baby pink details and accessories with shades of beige to keep it down to earth, while illuminating the whole look with doses of white.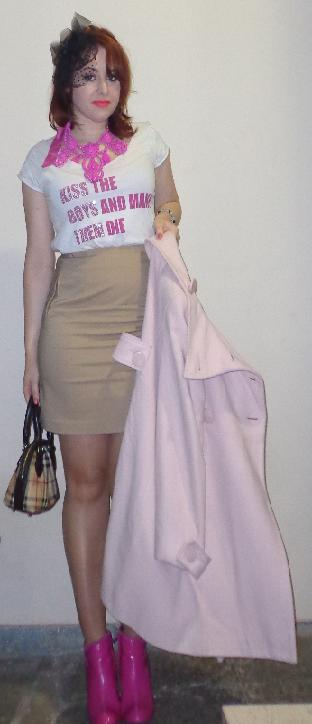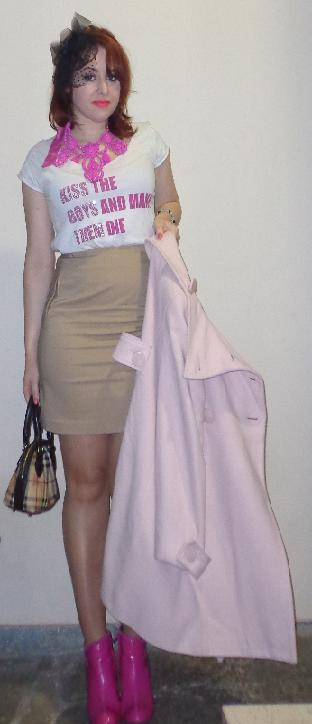 2.
I kept this Lanvin for H&M metallic necklace in its cute square box for a couple of years, until it found its perfect match with the sequined pink logo t-shirt by F.A.K.E., www.e-outfit.com.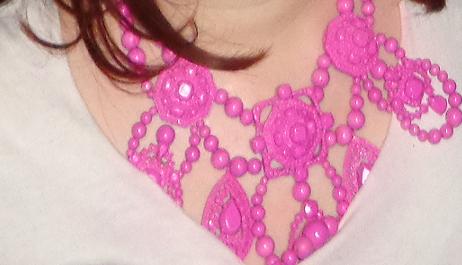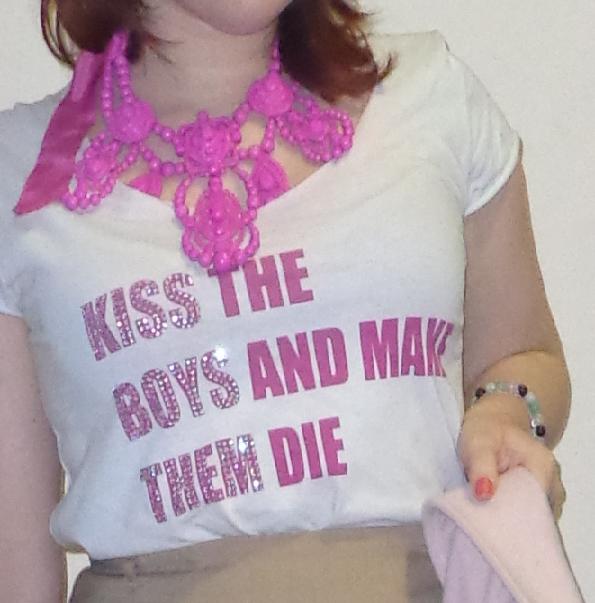 3.
A beige, high-waisted, figure-hugging skirt from H&M, a classic Burberry purse in an unusual, trapezium shape and Fornarina pink neon ankle boots with a diagonal cut, complete what I found to be a stylish party outfit.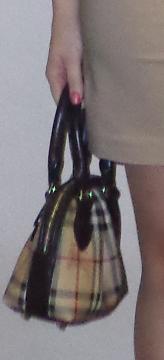 4.
Last but not least, a baby pink A-line coat from ZARA, courtesy of my mum, in her ultimate attempt to conceal what would have been an unspeakable t-shirt logo when she was my age.