Animal print, especially leopard, has been linked to sexiness and bold, head-turning looks. It's all a matter of design and styling though. Today we'll see an example of how you can achieve a girlie evening look with a leopard print dress.
(For more on styling your animal print outfits, read also "Animal Print disasters on the red carpet")
My friend Katerina Vassou bought this dress while on holiday in Romania. It's a simple cut, waisted mini-dress with short sleeves and a flared skirt. The tulle layer at the hemline is the element which makes all the difference, as it adds a romantic touch to the classically seductive coherence of leopard print. A stretch, figure-hugging animal print dress would be sexy, and a paillette one would look playful.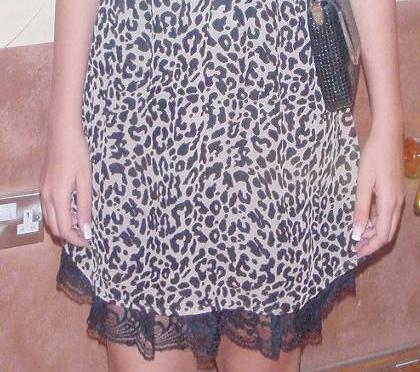 Matched with a black evening bag and black ballet flats, this look is ideal for a first date where you want to pretty but no like you're trying too much. Light curls or a sleek care (bob) haircut are ideal to complete the look, which will look fab for both brunettes and blondes.