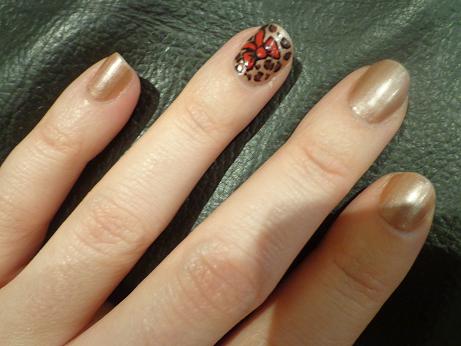 I had this manicure done at Tantrum Nail Bar in Westfield City Mall. They have an astonishing variety of really cool fashionable designs available at very reasonable prices.
I needed a manicure that would be feminine and sophisticated at the same time, because I had a bunch of work meetings and business events that week, so anything too flashy, too girlie or too sexy were completely out of question.
The base color that we used for this is "Nutter Butter" by Jessica. The animal print and the red bow were designed by hand at the nail bar, and I loved the final result so much that I wanted to buy the "Nutter Butter" nail polish at the end of my visit. Unfortunately, it was not available to purchase from Tantrum, so I ordered it by this very good seller on eBay with free shipping and speedy delivery, and I received it in my mailbox in a couple of days. It has become my favorite nail polish recently, because I love its subtle color and confident shine, which both make it suitable for day-to-night chic.