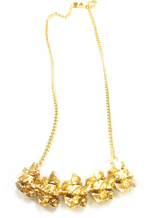 [PRESS RELEASE]
The British Fashion Council (BFC) today announce the Rock Vault Dozen, a new collaboration that will see twelve jewellers invited to design a ring created from up to an ounce of the precious metal, Palladium.
These rings will be showcased in a dedicated exhibit as part of the BFC's Rock Vault, sponsored by the International Palladium Board and curated by Stephen Webster, during London Fashion Week (LFW), September 2012.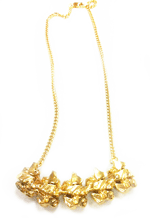 The designer brands selected to take part in this unique showcase are Alexandra Jefford, Fernando Jorge, Hannah Martin, Hillier, Husam El Odeh, Imogen Belfield, Jo Hayes Ward, Jordan Askill, Melanie Georgacopoulos, Sophie Bille Brahe, Tomasz Donocik and Yunus and Eliza.
The BFC Rock Vault is a unique showcasing initiative developed by the BFC to nurture the creative, fine jewellery talent based in London and to give designers the opportunity to further develop their businesses and increase exposure amongst UK and International media and retailers. It was launched at LFW in February 2012.
Stephen Webster comments, "The Rock Vault Dozen is the first incentive illustrating how this extraordinary platform for emerging, British-based jewellery talent can embrace and collaborate with the ever changing economics of the industry. Palladium, an ancient metal with newly acquired precious status, therefore new to many, is introduced to the consumer through the creative genius of the designers within Rock Vault. BFC, the panel and the International Palladium Board are very excited by the exceptional level of creativity generated by the RVD and look forward to the unveiling during the upcoming LFW."
Brad Mills, Chairman of IPB, comments, "The IPB is proud to sponsor the Rock Vault for its second season. This partnership with the BFC and collaboration with the talented designers involved in the exhibition provides the perfect platform to introduce palladium as the contemporary precious metal of the future".   The jewellers are selected and invited to showcase their collections with-in the Rock Vault by a panel chaired by Stephen Webster and comprising of Alexandra Stylianidis, Head of Buying and Accessories, Liberty; Anna Orsini, British Fashion Council; Caroline Broadhead, Fine Jewellery Programme Director, Central Saint Martins; Carol Woolton, Jewellery Editor, Vogue UK; Catherine Nieto, Grazia Fashion and Accessories Editor; Francoise Tessier, Browns Fine Jewellery Buyer; Jos Skeates, Founder and Director, ECOne; Katie Bain, British Fashion Council; Lara Bohinc, Designer and Cartier Consultant; Liane Wiggins, Matches Head Buyer; Lyuba Galkina, Marketing and Communications Consultant, International Palladium Board; Maia Adams, Adorn London Founder; Maria Lemos, Rainbowwave Director and Founder; Min Lee, Fine Jewellery Buyer, Net-a-Porter; Rachel Duffy, Buying Manager for Ladies Accessories, Selfridges.   The International Palladium Board is also working with Jordan Askill, Fernando Jorge and Hannah Martin who will create capsule collections made from Palladium. Their collections will showcase the metals properties of lightness and strength, resulting in uniquely crafted jewellery pieces for Spring Summer 2013.