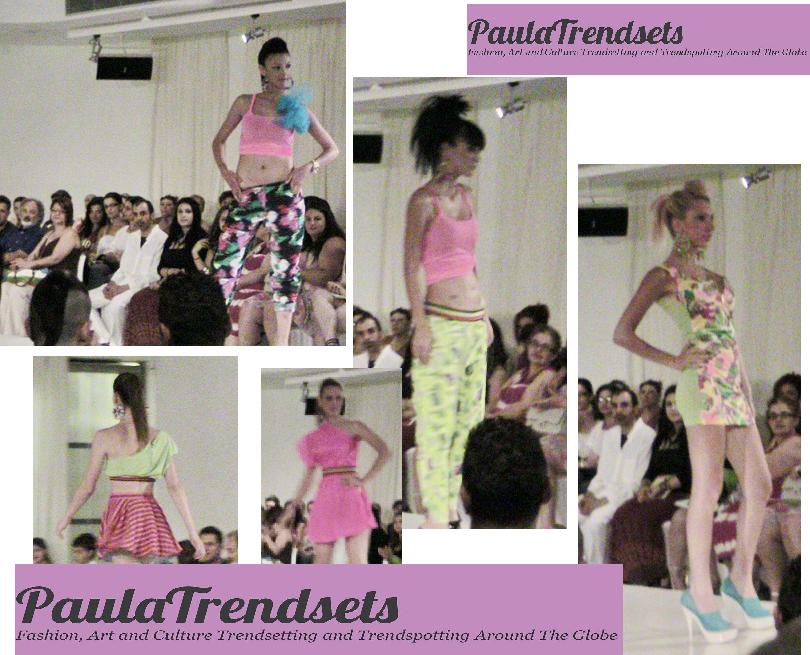 Students and graduates of Fashion Design in Cyprus (Frederick Institute of Technology) showed their most amazing creations in a collective fashion show and charity event under the title "Love Yourself". In the first part, 1st year students Sandy, Emily, George, Evangelia, Louiza and Chara showed one creation each. Designers Maria Demetriou, Monica Georgiou, Marina Constantinou, Polina Nearchou, Pampina Panayiotou, Andriana Varnakidou and George G. followed with a mini-catwalk show each. 
Monica Georgiou wowed the crowd with a colorful, fluo-dominated collection that sparked an exotic, summery mood to the spectators.
Despite the many technical problems I faced with my equipment that evening, I tried my best to capture the best moments of the show. Here are some videos to give you an idea. I am so sorry for the poor quality of the image, my normal camera broke down some hours before the show and I showed up with whatever I found to replace it.
1. Maria Demetriou's catwalk presentation was the surprise of the evening, as she gave her concept, "Circus", a theatrical dimension that we are not used to seeing often on the catwalk. It completely supported her collection though and certainly was a show to remember. Make sure you watch the part with the guy performer -so amazingly realistic. All of the performers of this show were brilliant though. 
[youtube]http://www.youtube.com/watch?v=U2q84Q-kJiE&feature=related[/youtube]
2. I love the creations of George G. since I got to know his work from "Carpe Diem Studio Gallery", my favourite concept store in old town Nicosia. His labels Saint Lash and Lash Lash are worth watching (and buying)
[youtube]http://www.youtube.com/watch?v=1AKCuFgPEAo&feature=related[/youtube]
3. Some highlights from the rest of the shows of the event. There were so many outstanding creations but unfortunately the poor quality image doesn't do them any justice.
[youtube]http://www.youtube.com/watch?v=1dFqN9tZj_Q&feature=related[/youtube]