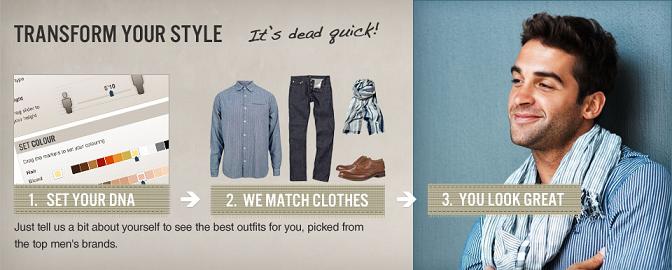 A friend has recently introduced me to the most genious men's fashion website I have ever seen – and I believe you would agree with me once you take a look at it and the innovative online styling service it provides.
It's true that men don't have a flair for fashion the way us, women, have. It must be their genes, the way boys are traditionally raised or, simply, their priorities are diffrent. Not that it matters, since Stylepilot.com is here to make up for any of the above and turn just any guy into a head-turning, fashion aware gentleman.
Thanks to the unique, tailor-made styling system, referred to as "Style DNA", Stylepilot will help you find your perfect style in seconds and suggest the ideal outfits for you to look and feel gorgeous – just like the friend who told me about the website did.
Style DNA will ask you for your bodytype (inverted V, rectangle or V-type), your height, your hair, skin and eye color tone, in order to specify the lines, sizes and colors that suit you best. What's more, after submitting the above, you will be offered a vast variety of clothing to choose from – they're not gonna force you into anything too daring or too conservative for you. They will suggest you all the shirts, jeans and jackets that suit your features, yet the final choice will depend on your own style and mood.
In a similar way, the equally genious Outfit Builder feature will help you style an outfit for any occassion: black tie events, smart dinners, relaxed dinners at friends', beachwear, ski trips, wedding receptions, hiking, chilling at home, work formal or work casual smart, so that you always look the best of you.
What more could a guy ask for?
I mean, fashion-wise.